Former State Department official Kurt Volker — a key Republican witness in the impeachment probe against President Donald Trump — defended former Vice President Joe Biden against corruption allegations during his public testimony on the Ukraine controversy Tuesday.
"I have known Vice President Biden for 24 years. He is an honorable man and I hold him in the highest regard," Volker, the former U.S. special envoy to Ukraine, told lawmakers.
He added that he rejected the "conspiracy theory" peddled by Trump's personal attorney Rudy Giuliani that the former vice president had been influenced in his duties by money paid to his son, Hunter, from the Ukraine energy company Burisma.
"I think the allegations against Vice President Biden are self-serving and not credible," Volker said.
Volker appeared before the House Intelligence Committee Tuesday afternoon to publicly testify about his knowledge of the Ukraine scandal.
President Donald Trump's communication with Ukrainian President Volodymyr Zelenskiy and his temporary blockage of nearly $400 million in military aid to the nation is at the center of the House Democrats' ongoing impeachment inquiry. The probe entered a new phase earlier this month as lawmakers moved the questioning from behind closed doors to the public.
Volker is the first of the so-called "three amigos" to testify before the House panel. Current and former officials from the Trump administration have testified that Volker, along with U.S. Ambassador to the European Union Gordon Sondland and Energy Secretary Rick Perry, were charged with carrying out back-channel negotiations with Ukraine.
Republicans requested Volker testify during the impeachment probe with the hope that he could help exonerate Trump. Volker largely defended the president during his closed-door deposition with the House committee last month. When asked whether the president had asked Ukraine to find dirt on Biden or his son Hunter, Volker said no. He also told lawmakers that he didn't know about any "quid pro quo" agreements linking military aid to Ukraine's announcement of investigations into Biden and the Democrats.
However, Volker reversed course in his testimony Tuesday, saying that he learned many things he didn't know about the Ukraine matter in the past few weeks. He said he now believes that Trump was using the military aid to compel Ukraine to announce investigations into Biden, his son Hunter and the gas company Burisma.
"In hindsight, I now understand that others saw the idea of investigating possible corruption involving the Ukrainian company Burisma as equivalent to investigating former Vice President Biden. I saw them as very different — the former being appropriate and unremarkable, the latter being unacceptable. In retrospect, I should have seen that connection differently, and had I done so, I would have raised my own objections," he said.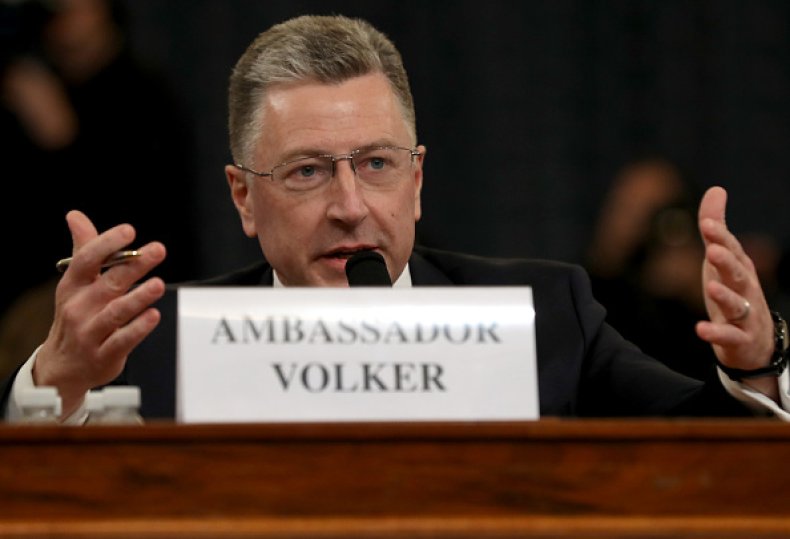 Trump has repeatedly denied accusations of a "quid pro quo" arrangement with Ukraine and he dismissed the hearings on Tuesday as a "kangaroo court."
Volker was joined in his public hearing by Tim Morrison, a senior director for Europe and Russia at the National Security Council. Republicans requested to hear from both Volker and Morrison to compare their testimonies to that of the Democratic witnesses such as Lieutenant Colonel Alexander Vindman, the NSC's top Ukraine expert, and Marie Yovanovitch, the former U.S. ambassador to Ukraine.
But their testimony, so far, has not exactly flattered Trump. Both officials testified about their uneasiness with Giuliani leading the president's agenda in Ukraine and against the false narrative surrounding the Bidens and Burisma.
Former acting solicitor general of the U.S. Neal Katyal, for example, tweeted during the hearing that Volker was not the witness Republicans were looking for. The testimony, he wrote, is "deeply damaging to Trump" and "not just because he is a Republican-called witness who blew apart Trump story about Biden & corruption."