Kushner Stands By Calling Coronavirus Response 'Success Story' in April, Says We 'Rose to the Challenge'
New coronavirus cases are six times higher than they were in April and hindsight is 20/20, but Jared Kushner, senior adviser to President Donald Trump, stands by calling America's response to the pandemic a "success story" six months ago.
On April 29, the day Kushner made the "success story" comment on Fox & Friends, America had about 1.043 million cases of the new coronavirus and 63,000 deaths. In the months since, Florida, Texas, Arizona and other states have seen major spikes in cases, with the total number of infections surpassing 6.5 million and deaths rising to more than 194,000.
Pressed on whether he declared the administration's response a success prematurely, Kushner told Today show host Savannah Guthrie that America's risen to "a lot of the challenges."
He contrasted the death toll in Italy, partially caused by a lack of ventilators, with Americans being able to get a ventilator if they need one. Kushner also pointed to an increase in personal protective equipment going to the "heroes" on the front lines, who worried they wouldn't have enough.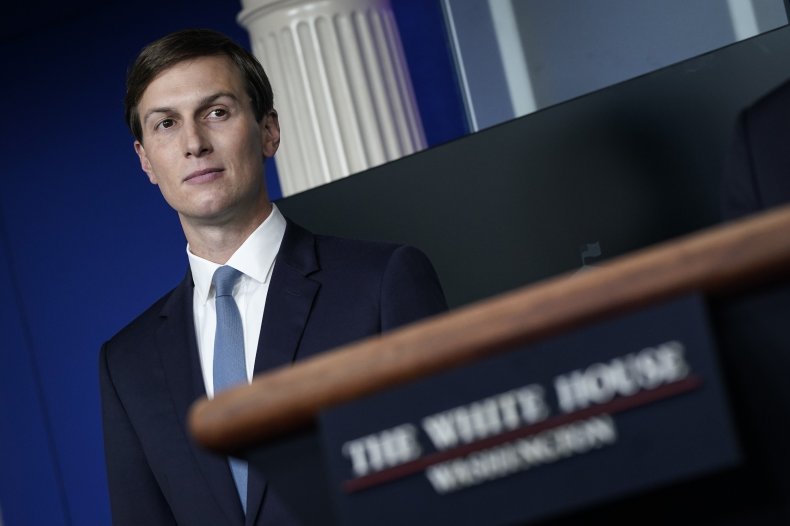 At the time he told Fox & Friends America's response was a success, Kushner told Guthrie, the country was past the "crisis phase" of the pandemic. The federal government felt it had the supplies needed to allow people to live in a "somewhat restricted but decent way" and "deal with everything that we anticipated could happen."
"This is an unprecedented pandemic, and we rose to the challenge," Kushner said. "It was very good to have an entrepreneurial president who doesn't do things in a bureaucratic way. He ran to all the different problems...confronted them seriously, and we created good solutions for a lot of them."
Some of the challenges America had to confront were ones that governors and the media were "hysterical" about, according to Kushner, and history will "look back and see who did their job appropriately." He's confident that after years pass, the federal government under Trump will be looked upon favorably because it issued warnings, stopped travel, recommended shutdowns and gave states the guidelines for reopening.
In touting the administration's success, Kushner also pointed to the speed at which America could have a vaccine. Under Operation Warp Speed, the administration made a financial investment in manufacturing a vaccine in the hopes that at least one candidate is deemed successful, thereby reducing the time it will take for the vaccine reach the American people. Opinions vary as to when a vaccine could come to market, with President Donald Trump floating the possibility it could happen before the election. But the consensus is that it's possible by the end of the year or early 2021, a historic timeline for a vaccine's development.
"We're quite optimistic that we're going to get through this thing, obviously in the best way possible," Kushner said.
Newsweek reached out to Kushner for comment but did not receive a response in time for publication.