Jared Kushner Accused of Leaking Damaging Rumors Before Rex Tillerson's Firing: Report
Former secretary of State Rex Tillerson's one-year tenure as the nation's top diplomat was described in damning tones by former department officials in a new report published Thursday. Tillerson is also quoted in the piece stating he "knows" who was behind rumors of his firing in his final months on the job, and the report claims that person to be White House senior adviser Jared Kushner.
Tillerson failed to notify North Atlantic Treaty Organization members prior to President Donald Trump's orders of missiles strikes on Syria a year ago, according to the report, following a chemical weapons attack on rebels opposed to President Bashar al-Assad.
"When news broke, alarmed allies . . . were calling," a State Department operations officer is quoted as saying in a piece published by The New Yorker. "We were told that the Secretary had a long weekend so he was going to go home and have dinner with his wife and call it a night."
"That floored me," the source said.
The story was pulled from a new book by reporter Ronan Farrow, titled "War on Peace: The End of Diplomacy and the Decline of American Influence."
Tillerson also went on the record with Farrow and addressed what led to his dismissal. The former ExxonMobil chief was asked about the rumors swirling about his impending firing, and how they were supposedly coming from the White House itself.
"[P]eople that matter, people that might have an interest in whether I stay or leave, there's about one hundred and sixty of them," Tillerson said. "I know who it is. I know who it is. And they know I know."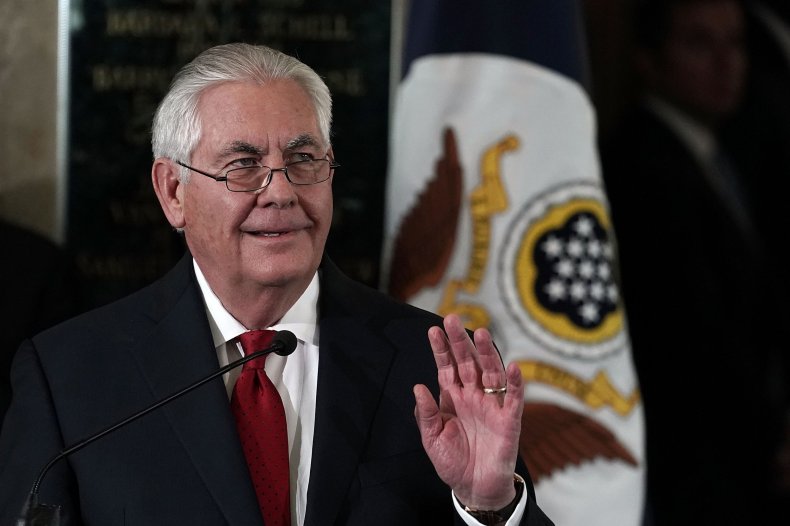 Tillerson was referring to Kushner, the president's son-in-law and top adviser, according to unnamed sources cited in the report who said they heard Tillerson speak about the matter.
Reports throughout Tillerson's tenure indicated a difficult relationship between him and Kushner. Tensions included the young real estate magnate's broad portfolio of responsibilities, which included the Middle East peace process.
Tillerson was fired by Trump in March and officially left his post later that month. Trump immediately tapped CIA Director Mike Pompeo as Tillerson's replacement, but he's yet to be confirmed by the U.S. Senate.
The State Department and White House did not immediately respond to Newsweek's request for comment for this story.