Kuwait's Emir Sabah Dies As Arab World Divided Over Israel, Iran, Other Crises
Sheikh Sabah al-Ahmed al-Sabah, Emir of Kuwait, has died at the age of 91, according to state-run media reports, leaving behind a region still divided over burgeoning ties with Israel, tensions with Iran and other ongoing crises.
Sheikh Sabah's death was announced by the official Kuwait News Agency, which bid farewell to the 14-year leader after a medical condition that saw him transferred to the United States for treatment in July. His heir apparent is his 83-year-old half-brother Crown Prince Sheikh Nawaf al-Ahmad al-Jaber al-Sabah.
Prior to the late leader's succession to the throne following the death of his then-Emir Sheikh Jaber al-Ahmad al-Sabah, also Sheikh Sabah's half-brother, he served as the country's foreign minister for 40 years from 1963 to 2003. He oversaw diplomatic relations during this critical period for the Arabian Peninsula and Persian Gulf region, including the 1991 Gulf War in which Iraq invaded and briefly overtook Kuwait.
Sheikh Sabah's death also comes at the heels of major developments for the Arab World.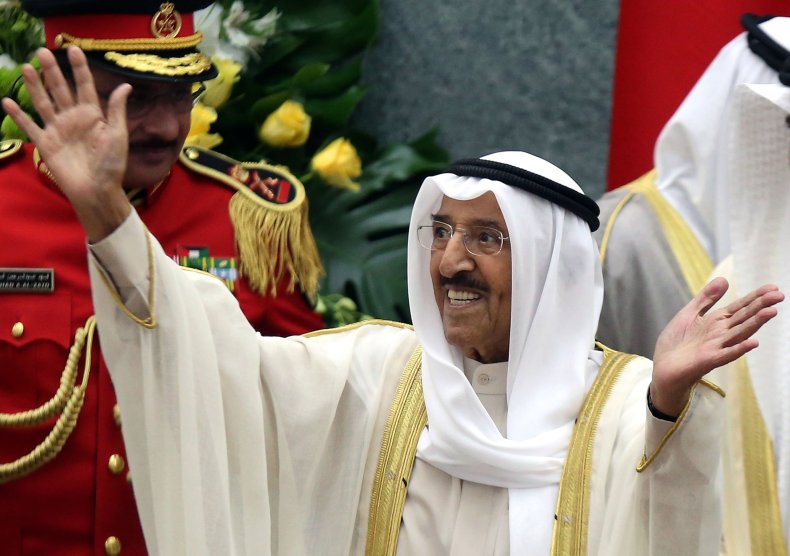 Fellow Gulf Cooperation Council (GCC) members Bahrain and the United Arab Emirates have normalized relations with Israel, becoming only the third and fourth Arab countries to hold ties with the nation since Egypt in 1979 and Jordan in 1994. The move goes against a nominal, decades-long boycott of formally recognizing Israel the resolution of its longstanding dispute with Palestinians backed by the Arab World since 1948.
A number of Arab countries have tacitly fostered ties with Israel in recent years, especially as Sunni Muslim monarchies grew wary of the rise of revolutionary Shiite Muslim Iran. Kuwait, however, has so far rejected calls by U.S. President Donald Trump to follow in the footsteps of Bahrain and the UAE.
Amid Arab-Iran tensions, the small coastal oil-rich state bordering Saudi Arabia and Iraq is precariously located just several miles from its closest point with Iran.
Kuwait has maintained relations with Iran despite a Saudi-led effort to cancel relations, though Kuwait officials have expressed criticism over what they perceived to be destabilizing Iranian actions in the region and have backed the Trump administration's push to extend a United Nations-imposed arms embargo on Iran set to expire in less than a month.
Kuwait has also broken with Saudi Arabia's campaign to boycott Qatar over alleged links to both Sunni and Shiite extremism. Sabah had led attempts to defuse the crisis that divides Qatar from the Saudi-led quadrapartite also including Bahrain, Egypt and the UAE, as well as the ongoing war involving a Saudi-led coalition against a rebel government established in Yemen by the Zaidi Shiite Muslim Ansar Allah, or Houthi movement, which is supportive of Iran.
Recognizing Sabah's top diplomatic role on issues that sometimes divided Kuwait and its neighbors, Abu Dhabi Crown Prince Mohammed bin Zayed was among the first to eulogize the late leader online.
"Our sincere condolences go to the Al-Sabah family and the people of Kuwait," Crown Prince Mohammed tweeted. "Sheikh Sabah epitomised wisdom, tolerance, and peace and he was a great pioneer of Gulf cooperation. He served Kuwait with honor and grace, and his work will never be forgotten. May God have mercy on him."
U.S. ambassador to Kuwait Ambassador Alina Romanowski also spoke out.
"I extend my deepest condolences to the esteemed Al-Sabah family and the Kuwaiti people on the death of His Highness Emir Sabah al-Ahmad al-Jaber al-Sabah," she wrote in Arabic and English messages. "The Emir was a beloved leader and a special friend of the United States. His legacy will inevitably continue. May God reward you all greatly."
This is a breaking news story and will be updated as more information becomes available.