'Our Lives Are There': Kyiv Family Relocates to Czech Republic for Safety
Il'ja Rákoš currently spends his days with his wife and two sons at a friend's farmstead in a little village between Prague and Bratislava. The family from Kyiv, Ukraine, sought refuge about 2 1/2 weeks into the initial Russian invasion.
"We're nowhere. We have no transport here or anything; it's really a village," Rákoš told Newsweek. "But it's alright, we're trying to get rested up because we've got a million things in front of us. This is a good spot to just kind of get our rest."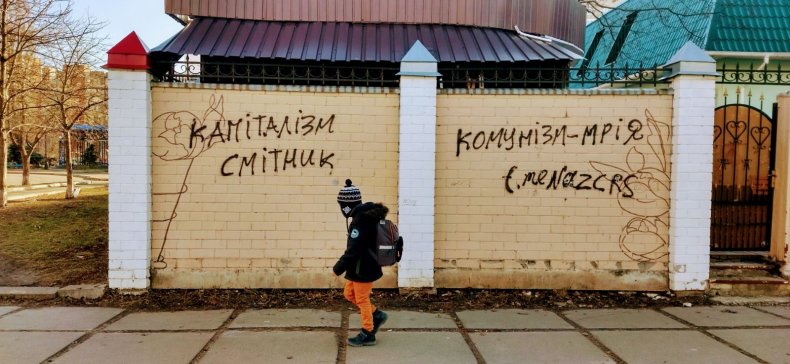 Rákoš, 59, has lived in Kyiv for the past 30 years, but he is originally from western Washington state in the United States. He joked that "the only reason you know where I came from is because Kurt Cobain and I grew up in the same small town."
He was raised in a Slavic family, so when he moved to Ukraine he was familiar with the traditions, dances, food and languages. It wasn't as big a culture shock as it would be for the average American to uproot in a foreign land. Yet when he arrived following the fall of the Soviet Union, things were "a mess."
In the mid-1980s he was ordained as a priest, at which point he moved to Eastern Europe and served in that capacity for nearly two decades. But about 18 years ago he met a woman and wanted to wed, so he left the church.
He has written for The Millions for years, recently documenting events in Ukraine and providing commentary for the literary publication.
The couple's sons are 6 and 8 years old. Rákoš has what amounts to a Ukrainian green card, which has to be renewed once every 10 years. His wife has no U.S. citizenship, although the European Union has made it easy for Ukrainians to relocate into other countries during the present conflict.
"We own our flat there [in Kyiv], our lives are there," he said. "Everything is there. Our two sons were born there. It's rougher on my wife because she's Ukrainian—born in the Soviet Union, actually, but Soviet Ukraine and raised there. In just a matter of weeks, it's just gone. It's never really been easy."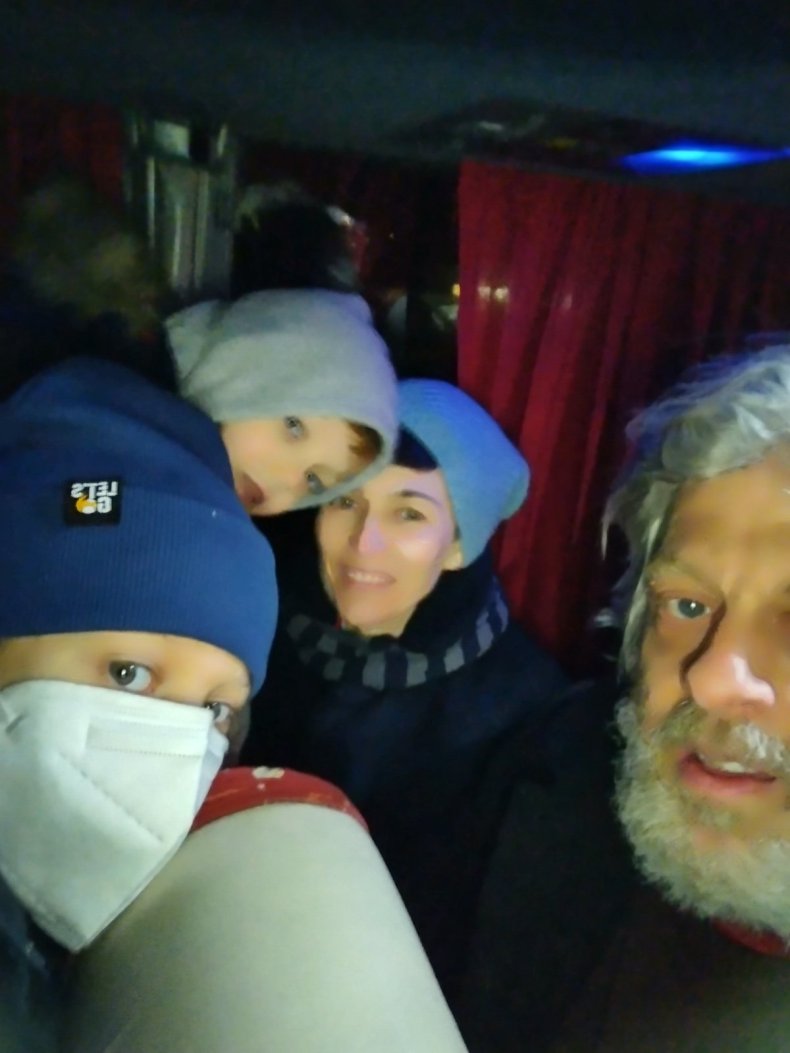 His wife comes from a Russian-speaking family, which Rákoš said is likely difficult for many westerners to grasp. Between 13 and 15 million people in Ukraine speak Russian in their households, he said, with the language differences being akin to families that speak Spanish and Portuguese.
Russian President Vladimir Putin has created a narrative of Russian- and Ukrainian-speaking families in Ukraine presenting a cultural dichotomy, Rákoš said, but the truth is that the differences are not as drastic as Putin makes them.
"Texas is different from Kansas, but they're not at war," he said. "Just like Donetsk is different from Poltava, they're not at war."
He said his family's journey from Kyiv toward Western Ukraine and now the Czech Republic was a "really rough trip" and that his sons sensed "that something was really off." Rákoš and his wife have attempted to put the current war into historical context, which has made the children "pretty upset" because they now realize that males just 10 years their elder are getting killed in military combat.
If you are a man between 18 and 60 years of age, you cannot leave Ukraine and must fight. It's an ideal going back as far as World War II.
"They're kids so their resilience is somewhat bolstered because they can be pretty naive about whatever," Rákoš said. "But at the same time you're crouched down in your basement, the sirens are going off, and your windows are going whoof and the windows are doing this. They're not unaware."
Prior to leaving their flat in Kyiv, "saboteurs and marauders" spray-painted marks on their building—a residence for some Ukrainians since prior to World War II, Rákoš noted.
"Russia does the same thing, they pull this play every time they go into some place," he said. "They hire disgruntled locals...they hire these thugs to essentially go out and wreak havoc; blow stuff up, terrify people, walk down a peaceful street with a gun. [W]here better to get [terror] than if he hit a neighborhood in which 10,000 people live in a close area?
"If the world were normal, he's in so much trouble—so many war crimes being committed," Rákoš continued. "This stuff is agreed upon by everybody since World War I and World War II, you don't do that. But in Ukraine he does it and it's not really surprising. They think of Ukrainians as subhuman; they think of Ukrainians as villagers who got a little extra money, [like] peasants."
Rákoš admitted that if he were alone, he may have stayed behind and fought in Kyiv. But due to having a wife and young children, he said he couldn't have such decisions weigh on his conscience.
As for Ukraine President Volodymyr Zelensky, Rákoš said "you couldn't ask for better. I don't think a better person exists. He's not fake. When he's got the camouflage or the helmets or whatever, he's out there."
It remains unclear, for Rákoš' family and millions of other Ukrainians, what the future holds. He said the incredible "openness" that has built and prospered in Ukraine the past 15 years or so is being tested daily, and if Putin and Russia succeed then Ukraine will be thrown back into "the Dark Ages."
One thing remains clear: Ukrainians do not intend to stop fighting. Rákoš said it's not in their character to surrender.
"We've got to figure it out," he said. "The thing is, we lived these peaceful lives. Maybe if this ends normally or Russia capitulates—who knows how it ends—but we own our flat and our intention would be, 'Do you go back at all if a puppet regime was installed?' What would be the point if your freedoms are gone?"