Kyiv Needs More Rockets, Air Defense Units To Fight Russian Grid Attacks
There is a direct relationship between the provision of Western air defense systems to Ukraine and the number of hours per day that households across the country enjoy access to electricity.
Since October 10, Russia has been waging an air campaign aimed at crippling Ukraine's energy infrastructure. Without power, other critical services — including water, heating, telecommunications, and wastewater treatment — could be disabled, just as winter is starting to set in.
Ukraine's air defenses have succeeded in shooting down the vast majority of Russian missiles and drones fired into the country. According to the Ukrainian Ministry of Defense, 77 out of "more than 90" missiles, along with all eleven drones, were intercepted in the most recent massive attack wave launched by Russia on November 15.
However, sustaining that rate of success, let alone improving upon it, will depend upon how quickly Ukraine's Western partners can deliver new air defense systems, and how sustainably ammunition for those systems can be provided.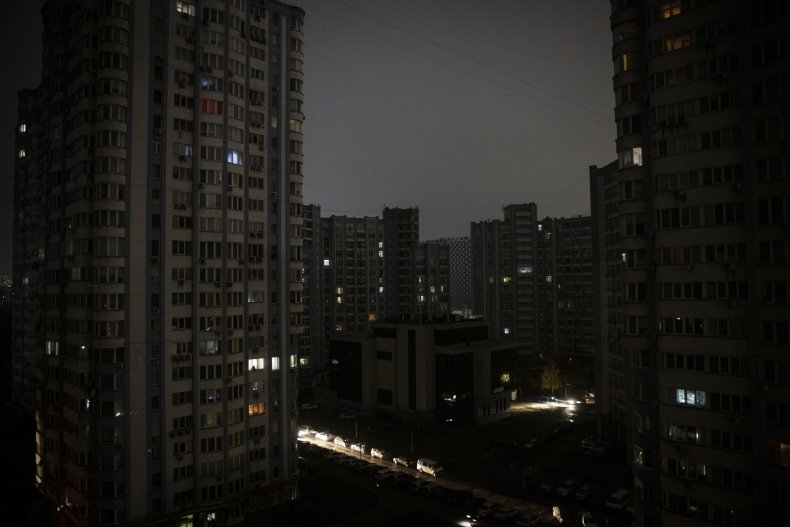 "The surface-to-air weapons systems being provided by our Western partners are not being delivered in sufficient quantities to defend the entire territory of our country," Yuriy Ihnat, Speaker of the Air Forces Command of the Armed Forces of Ukraine, said as part of a November 21 briefing at the Kyiv Media Center.
"One air target requires the use of two surface-to-air missiles to increase the chances of downing it," he explained. "So to achieve better results, we need more means, because the enemy keeps trying to exhaust our air defense forces."
While Western kit, including U.S.-made NASAMS and German Gepards, have enhanced Ukraine's capabilities, more assistance is needed in order to keep Russian planes out of Ukrainian skies, as well as to protect objects of critical infrastructure from further missile and drone strikes.
Oleksandr Kharchenko, the Director of Ukraine's Energy Industry Research Center, described the effects that the Russian attacks are having on the country's electricity grid.
"Maintenance work is continuing 24/7 to repair the damage, but transformers and substations which suffered direct hits cannot be repaired, and they cannot easily be replaced," he told Newsweek.
"If on October 10 our resilience level was at 100%, in my estimation today it is around 25%, meaning that if we have two more waves of 100 rockets in the next two weeks, and if the success rate of our air defenses is similar to what it was in the previous waves, we will have a blackout," Kharchenko cautioned.
Although most Ukrainians, including those in Kyiv, are already living without electricity for several hours every day, Kharchenko stressed that these controlled power outages differ significantly from an actual blackout.
"A blackout occurs when there is a disbalance in the relationship between energy supply and energy demand, which causes the entire system to shut down," he said.
"The people who are developing the plans for what to do in the event of a full blackout tell me that it would take between three days and ten days to restore supply to consumers," Kharchenko added. "But they also say that there is no precedent for such a situation, and so no one knows for sure."
Thus far, the periodic Russian attacks have targeted both Ukraine's power generation capacity and its network of high voltage transformers and substations. Still, so long as the Ukrainian power system retains its capacity to produce and transport some unstated minimal level of electricity, critical services such as water supply and heating should be able to be brought back into working order relatively quickly, even in the event of a blackout.
"Our engineers and dispatchers know which objects of civil infrastructure are the priorities to get back online first," he said, "and depending on the temperature, municipalities know how long they will have in order to clear water from their pipes to prevent them from freezing."
"Everyone is thinking about the Russian logic that they might be able to do the most damage by executing massive strikes when the temperature is at its coldest," Kharchenko added.
While Ukrainians stock up on candles, blankets, bottled water and power banks, the wider world is also beginning to recognize potential vulnerabilities in its own power grids.
"Never in the history of humanity has this type of terrorist attack been directed at such a highly developed energy and social infrastructure," Kharchenko said. "It's not so good for us, but maybe it's useful for mankind, because Ukraine is demonstrating how to resist this kind of terrorist campaign."