Ukraine Takes Out Russian Bridge as Kherson Counter-Offensive Ramps Up
Ukraine's military has destroyed a pontoon bridge built by Russian troops in the occupied Darivka village in the Kherson region, officials said Wednesday.
The development was reported by Ukraine's Operational Command South, which has been issuing regular updates on Kyiv's counteroffensive in the Kherson region. The area was seized by Moscow in the early stages of the war.
"Hits are effective, damage is significant. The pontoon crossing set up by the occupiers in the Daryevka area was destroyed," the command said in a report on its Facebook page.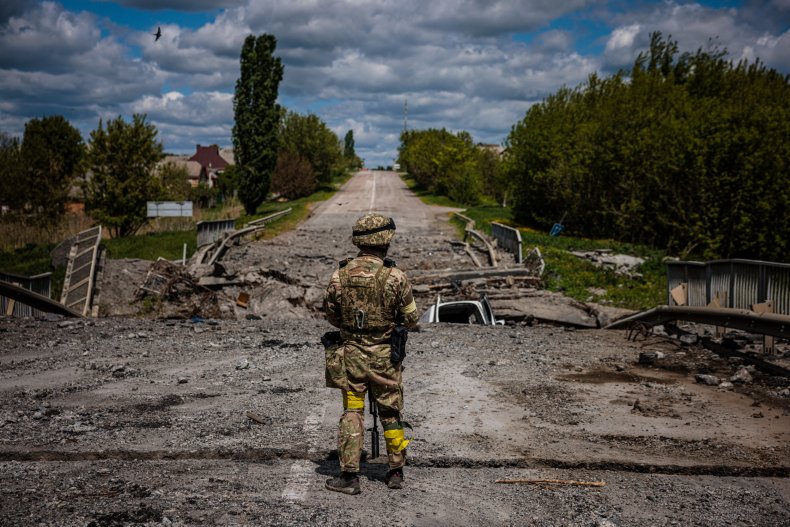 Ukraine's military first reported that Russian forces were attempting to build a pontoon bridge across the Inhulets River in Darivka village on July 27, sharing images posted by a Twitter user.
In a news release, Kyiv said a photo shows the construction of a pontoon bridge a few hundred yards from the Darivka Bridge concrete road bridge on the south side, covered with tree branches.
Russian forces appear to have built the pontoon bridge after the Darivka bridge was damaged.
Ukraine's Operational Command South said on August 26 that the Darivka bridge was struck by Ukrainian rocket and artillery units, and that it had therefore become unusable.
The Darivka bridge, as well as others including the Kakhovka Bridge and the Antonovsky Bridge, have been targeted multiple times by Ukraine with high-precision munitions, in order to cut off supply routes and prevent them from being used by Russia to transport military equipment, personnel, and more.
The Darivka bridge is a combination rail and road bridge that Russian troops had been using to transport supplies over the Inhulets river.
The Antonovsky Bridge is also significant as it's the only road bridge connecting Kherson, located on the western side of the Dnipro river, with a part of the Kherson region on the other side. It is the main crossing over the Dnipro, and it's a key route for Russia to supply its forces occupying territory in Ukraine's south.
The Kakhovka bridge, which runs over the Nova Kakhovka dam, is also vital to Russian President Vladimir Putin's forces as it was being used to transport military equipment in the region. When detailing a strike on the bridge in an August 12 Facebook post, Ukraine's Operational Command South said it was the last bridge connecting the right and left banks.
Russia's defense ministry has maintained this week that an attempt by Ukraine to resume an offensive in the Kherson region has so far been "unsuccessful."
Newsweek has contacted Russia's foreign ministry for comment.