Kyle Lowry Calls Donald Trump 'A Criminal' After President's Supporters Storm Capitol
Toronto Raptors star Kyle Lowry has denounced President Donald Trump as a "criminal" who should be charged for his role in Wednesday's insurrection at the U.S. Capitol.
Thousands of rioters, many of whom wore Trump paraphernalia and carried Confederate flags, stormed into the building in Washington, D.C. shortly after words from the president.
Protesters breached the building and made their way to the debating chambers, where they temporarily halted the tallying of Electoral College votes to ratify Joe Biden as the winner of last November's presidential election.
According to D.C. police, four people were killed in the unrest, including a woman who was shot by the Capitol police and three who died in what D.C. police chief Robert Contee described as "medical emergencies."
Shortly before unrest erupted, Trump had encouraged his supporters to march onto the Capitol.
"We will never give up," Trump said as he addressed thousands of protesters close to the White House for around 70 minutes.
"We will never concede. It doesn't happen. You don't concede when there's theft involved."
The speech was the culmination of three months during which Trump has repeatedly sought to paint Biden's election victory as illegitimate, despite lacking any evidence to do so.
Following the Raptors' 123-115 loss to the Phoenix Suns, Lowry delivered a scathing assessment of the president.
"I was reading [...] there was four dead after the rioters stormed Congress," the 2019 NBA champion told reporters.
"And the man that was president, he told them to do it. That man is a criminal, he should be charged. You basically told them to go do this, and people died."
The Raptors guard was one of several NBA players and coaches to be publicly critical of Trump.
Golden State Warriors head coach Steve Kerr described the mob who stormed the U.S. Capitol as "terrorists" and said responsibility for the insurrection lay squarely with Trump.
"A legitimate election is suddenly questioned by millions of people, including many of the people who are leading our country in government, because we've decided to [...] allow lies to be told," he said ahead of the Warriors game against the Los Angeles Clippers.
"This is who we are. You reap what you sow."
Meanwhile, Philadelphia 76ers head coach Doc Rivers and his Atlanta Hawks counterpart Lloyd Pierce pointed out the discrepancy in how Trump supporters were treated, compared with the way police forces handled mostly peaceful protests over the summer.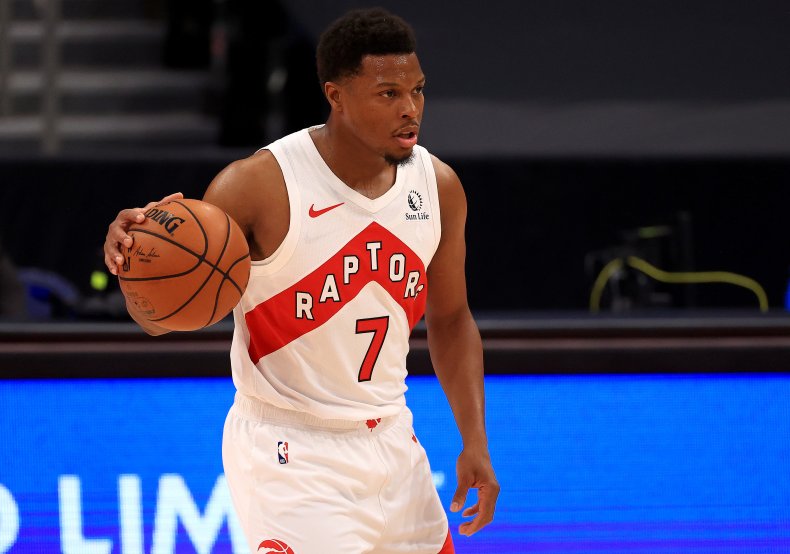 Lowry echoed the sentiment.
"The fact that people were allowed to basically take over a building without any type of enforcement, if they were people of color I think it would've been a whole different situation," he added.
The Raptors star also reflected on the prosecutors' decision not to file criminal charges against the officer who shot Jacob Blake in Kenosha, Wisconsin, in August.
A Black man, Blake was left paralyzed after being shot in the back at point-blank range seven times by officer Rusten Sheskey as he opened the door of his car.
Blake's three kids were sat in the backseat and footage of the incident sparked days of protests in Wisconsin in August.
On Tuesday, however, Kenosha County District Attorney Michael Graveley decided not to press criminal charges against Sheskey or Brittany Meronek and Vincent Arenas, the other two officers at the scene.
"What happened in Kenosha with the officer not being charged is just kind of a slap in the face to Black people all over the world," Lowry said.
Suns and Raptors players linked arms as the national anthem was played before tip-off on Wednesday night.
"We just kind of wanted to show our unity together," the six-time All-Star explained.
Elsewhere, players from the Boston Celtics and Miami Heat took a knee prior to their game, as did the Milwaukee Bucks and the Detroit Pistons.