'RHOBH' Star Kyle Richards Foreshadows Lisa Vanderpump Feud in Season 9 Blog: 'We Cannot Ignore a Friend Being Disingenuous'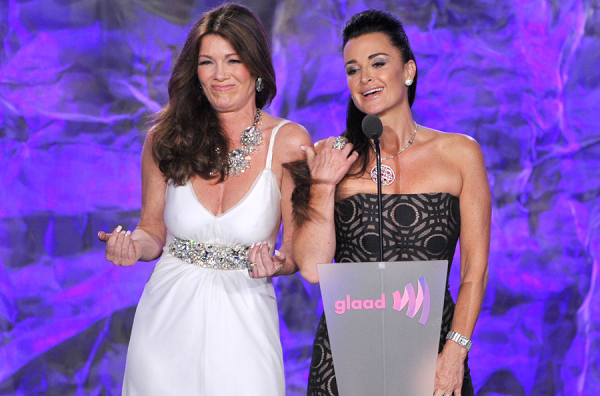 The beginning of the end is nigh—at least for the friendship of Real Housewives of Beverly Hills stars Lisa Vanderpump and Kyle Richards.
Despite all the drama Lisa is currently facing on Season 9 with fellow cast mates Dorit Kemsley and Teddi Mellencamp, the restaurateur and her longtime pal Kyle are doing just fine in their relationship. However, that's soon going to change.
RHOBH fans who have been keeping up with Lisa and Kyle know that they are presently no longer speaking. In fact, Lisa is on the outs with all of her castmates and the tension between the reality stars may have resulted in her absence at the RHOBH Season 9 reunion.
While Kyle and Lisa were seen complimenting each other's lady-parts and skipping in the sunlight following drinks with new cast member Denise Richards on Tuesday night's episode, Kyle's latest RHOBH blog entry foreshadowed the bad blood slowly bubbling up between them.
In a post titled, "We Cannot Ignore a Friend Being Disingenuous," Kyle offers her take on the fallout between Lisa, Dorit and Teddi. Their feud was brought on after Lisa learned that a dog Dorit adopted from her charity, Vanderpump Dogs, was given to a kill shelter. Teddi learned of the story during the girl's trip to the Bahamas at the beginning of the season and made some rather raucous comments about Dorit, which she apologized for during episode 6 when she learned what really happened with the animal.
Kyle explained: "Teddi and Dorit were not in a good place, and nobody wants to hear about any animal not treated with anything less than compassion. The story we later heard was very different from the one we were originally told by the Vanderpump Dog's team, which may explain why we were less upset later than we originally were. Remember, that day at Vanderpump Dogs, I was initially confused as to why Lisa V was not upset with Dorit about the dog. It seemed this information [about the dog] was given to Teddi and then me with the hopes of going after Dorit."
According to Kyle, she was just as confused as everyone regarding the story of Dorit's temporary pet. "When first hearing about this story, I was very upset. Why didn't Dorit just give the dog back to Vanderpump Dogs? How did it end up at this shelter? (We found out later it was NOT a kill shelter.) Who was the person Dorit gave the dog to? I had all of the same questions you have been asking yourselves," Kyle wrote.
She continued: "It then became about, 'Why would Lisa want to do this to a friend?' Why would she want a twisted version of what really happened out there to hurt someone she cares about? It didn't sit well with me because it's been a pattern with Lisa. I, too, have been on the receiving end of Lisa with an agenda."
Before concluding, Kyle attempted to clear up a few misconceptions some viewers have formed regarding her upcoming feud with Lisa on the show. "Just to be clear to those of you who have said I have 'attacked Lisa,' I have not even had an argument with Lisa at this point. We had a nice lunch in the Bahamas and at dinner, in the Bahamas, I tried to get her to stay. We flew home together. We continued to make plans together."
Fans will have to keep watching to find out exactly what actually causes Kyle and Lisa's inevitable breakup, but as it stands, the two still have yet to make up. Kyle revealed she and Lisa weren't talking during a recent appearance on LIVE! with Kelly and Ryan in February.
"My status with Lisa right now is not good," she explained. "I really hope so [that we can speak again someday] because I care about Lisa and we've been friends for a long time and we've been doing this for a long time."
Real Housewives of Beverly Hills airs on Tuesdays at 9 p.m. ET on Bravo.