Kyle Rittenhouse was quizzed about his previously stated support of the Black Lives Matter (BLM) movement at an event popular with conservatives, before security personnel removed the journalist asking the questions on Monday.
That journalist, Elad Eliahu, later posted a video showing the confrontation at Turning Point USA's Americafest on his Twitter account. It showed him being held away from Rittenhouse and having his press pass removed.
Rittenhouse appeared on stage at the event in Phoenix that same day, being met with cheers from the crowd. Since being found not guilty of all five charges against him in his murder trial he has received support from Republican politicians and conservatives.
Offstage footage shows Eliahu rushing up to Rittenhouse and repeatedly asking him why he supports BLM movement. In the clip, Rittenhouse could not be heard to give an answer as he continued to walk.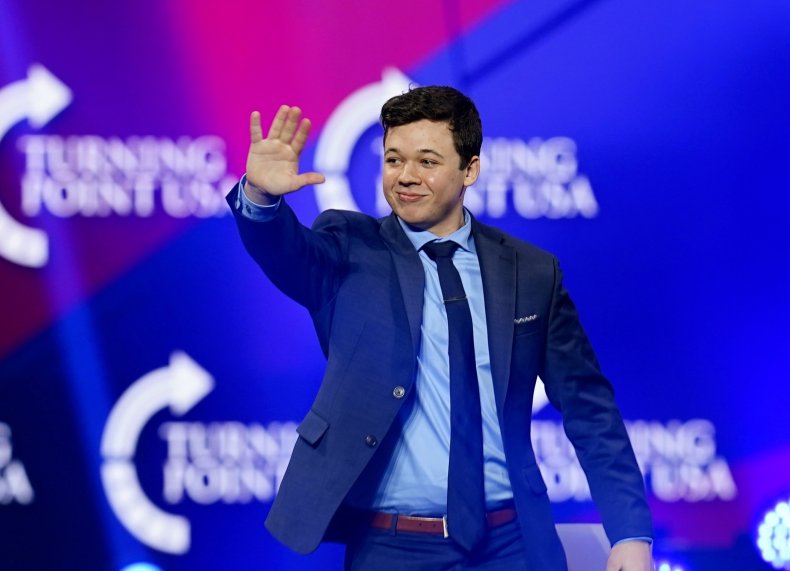 It comes after Rittenhouse told Fox News' Tucker Carlson in November, after being acquitted of murder, that he expressed his support.
Rittenhouse said: "This case has nothing to do with race. It never had anything to do with race. It had to do with the right to self-defense.
"I'm not a racist person. I support the BLM movement. I support peacefully demonstrating."
Eliahu posted the video with the caption: "Asked Kyle Rittenhouse why he supports BLM before Turning Point USA security wrapped me up and removed me from the conference."
In the video, Eliahu said: "Excuse me Mr Rittenhouse can you tell me why you support BLM?"
Eliahu is pushed further away from Rittenhouse to which he replies "I am not a threat." He then repeats his question.
Speaking to security, he says: "Why are you pushing me? I am allowed to be here." The journalist is then told by a member of security not to try and push past him.
Another member of security then approaches Eliahu and unhooks his press pass from around his neck, telling him "we are revoking that." The security official added that he would be criminally trespassing on the property if he stays.
Eliahu replied that he needed to be given time to leave the premises.
Newsweek has contacted Turning Point USA for comment.
Podcast host Elijah Schaffer was among those to comment and shared the clip on social media.
He captioned the video: "What is this? We were on our way to do a panel, which thanked independent journalists for taking risks.
"And then an independent journalist gets kicked out for trying to do exactly that?
"It was a fair question, I fully understand security pushing him back, but revoking his press pass?"