Is Kyle Rittenhouse Going to Texas A&M?
Kyle Rittenhouse, who announced Friday on the Charlie Kirk Show that he would be attending Texas A&M University, is not enrolled for the summer or fall semester, sources reported Sunday.
A statement by a representative of the university contradicts the declaration by Rittenhouse, who told Kirk he would be attending the university and "it's going to be awesome."
"Kyle Rittenhouse is announcing he's an Aggie," Kirk said on the show.
However, Kelly Brown, associate vice president of Marketing & Communications with Texas A&M, released a statement saying Rittenhouse is not yet enrolled.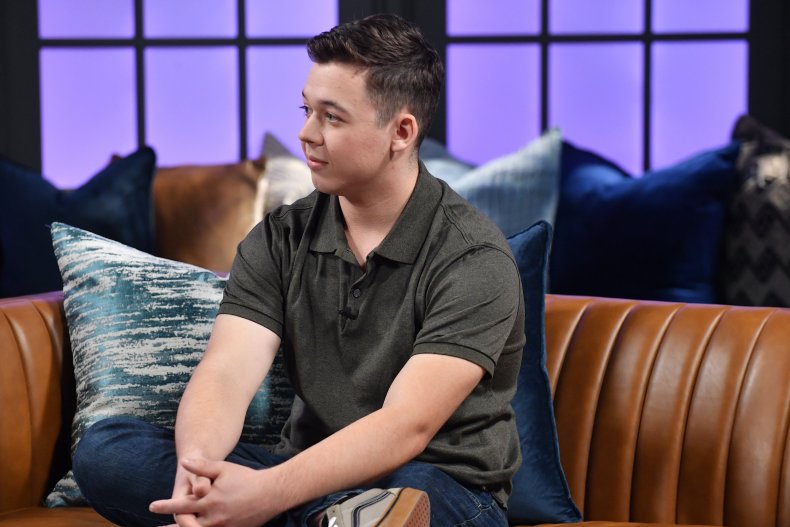 "He has not been admitted as a student this summer or fall," Brown told the Dallas Morning News in an email.
Rittenhouse was acquitted by a jury after fatally shooting two men and injuring another during protests in Kenosha, Wisconsin, on Aug. 25, 2020, when he was 17. He had faced charges of homicide, attempted homicide and reckless endangerment and said he acted in self-defense.
He told Kirk in the segment that he visited Texas A&M earlier this year, and photos posted to his Twitter account on May 9 show him at the campus.
"So I'm going to be going there. It's going to be awesome," Rittenhouse told Kirk. "Beautiful campus, amazing people, amazing food."
Kirk asked Rittenhouse if he would be joining the Corps of Cadets.
"I haven't decided yet, I may," Rittenhouse replied.
Newsweek reached out to representatives of Rittenhouse and Texas A&M for comment.
Rittenhouse had been insinuating he was interested in attending Texas A&M for weeks in posts on social media, including Instagram.
"I'm thinking about staying," he said in a post April 30 while seated on an oversized Texas A&M chair in College Station.
Another post he wrote said that "ASU has been fun, but becoming an Aggie might be better.."
Rittenhouse, who went on trial in November, made a statement at that time that he was enrolled at Arizona State University and taking online classes, according to Fox 7 in Austin, Texas. But ASU officials have said he was no longer enrolled there.
"Kyle Rittenhouse has not gone through the admissions process with Arizona State University and is not enrolled in the Edson College of Nursing and Health Innovation," Fox 7 reported. "ASU can confirm that Mr. Rittenhouse enrolled as a non-degree seeking ASU Online student for the session that started Oct. 13, 2021, which allows students access to begin taking classes as they prepare to seek admission into a degree program at the university."