Kyle Rittenhouse Weighs In on Hunter Biden for the First Time
Kenosha shooter Kyle Rittenhouse has spoken out about the authenticity of emails from Hunter Biden's laptop while tying them to his own case.
Rittenhouse, who was cleared of two counts of murder following a highly divisive trial in November 2021, waded into the debate surrounding information reported to have come from a laptop belonging to President Joe Biden's son.
A number of Republican figures have jumped on how news organizations such as The New York Times and The Washington Post have authenticated some of the original claims regarding Hunter Biden's laptop, which were first published by the New York Post just weeks before the 2020 election.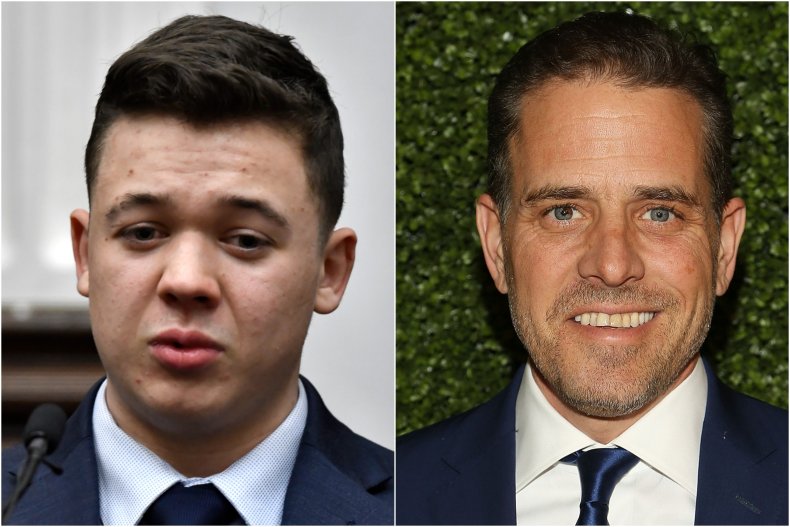 Rittenhouse, who was embraced by the right and praised as a hero after being found not guilty of murdering two people at Black Lives Matter protests in August 2020, has now joined in the chorus of those claiming the Hunter Biden laptop story has been shown to be a legitimate concern.
"Let me get this straight, Joe Biden can turn a blind eye to the misconduct of his own son, but defames me for defending myself?" Rittenhouse tweeted on Tuesday.
"The more I read, the more I shake my head."
Rittenhouse previously vowed to sue Joe Biden for defamation over a September 2020 tweet which linked him to white supremacy.
During the 2020 election campaign, Joe Biden's account tweeted a video condemning Donald Trump for failing to denounce white supremacy and other far-right groups, which included a still of Rittenhouse on the night he shot and killed Joseph Rosenbaum and Anthony Huber and injured Gaige Grosskreutz in Kenosha, Wisconsin.
The original reporting from the New York Post claimed that Hunter Biden arranged for then Vice President Joe Biden to meet with an executive from Ukrainian energy firm Burisma, where Hunter Biden was a board member, in April 2015.
The claims were used by the GOP to suggest there was a conflict of interest where Joe Biden was involved or even profited from his son's foreign business dealings with Ukraine and China during his first stint in the White House.
After originally dismissing the reports as potential misinformation and casting doubt on its authenticity, The Washington Post found that thousands of emails did come from the computer that Hunter Biden allegedly dropped off at a repair shop in Wilmington, Delaware in April 2019 and never picked up.
Among the emails verified by The Post include ones showing how Hunter Biden was paid nearly $5 million by the CEFC China Energy company, as well as others stemming from his work with Burisma.
The Post said that its review of the Burisma emails found they were routine communications that provided "little new insight" into Hunter Biden's work for the company, nor did it implicate Joe Biden.
It later reported in December 2020 that Hunter Biden is under investigation over his finances, including claims of money laundering and alleged business dealings with foreign countries, including China, which he denies. Joe Biden is not implicated in the investigation.
The White House has been contacted for comment.