Kyle Rittenhouse Demands Joe Biden Take Accountability for White Supremacist Remark
Kyle Rittenhouse said President Joe Biden had defamed his character by implying that he was a white supremacist in a Twitter post.
Rittenhouse spoke to Fox News host Tucker Carlson in an interview that aired Monday evening after having all charges dropped against him on Friday.
During a protest in Kenosha, Wisconsin, in August 2020, Rittenhouse fatally shot two people, Anthony Huber and Joshua Ziminski. Another person, Gaige Grosskreutz, was also wounded by Rittenhouse.
A jury in a U.S. court concluded last week that Rittenhouse was not guilty of murder and had acted in self-defense. After the verdict, President Biden was asked by reporters what his reaction was.
He said: "I just heard a moment ago, I didn't watch the trial.
"I stand by what the jury has concluded, the jury system works and we have to abide by it."
In a tweet during the 2020 presidential race, Joe Biden tweeted a video attacking Trump and accusing him of not disavowing white supremacists.
The tweet read: "There's no other way to put it: the President of the United States refused to disavow white supremacists on the debate stage last night."
While Biden doesn't mention Rittenhouse in the tweet, the video attached briefly shows the teenager holding his AR-15 semi-automatic assault rifle during the protests in Kenosha. The tweet has resulted in President Biden being accused of implying that Rittenhouse was a white supremacist and led to Republicans demanding he apologize.
Carlson asked Rittenhouse how he felt about being likened to a white supremacist by President Biden after the shooting in Kenosha.
Rittenhouse responded by saying: "Mr. President if I could say one thing to you, I would urge you to go back and watch the trial and understand the facts before you make a statement.
"It is actual malice, defaming my character for him to say something like that."
He continued: "It is actually quite hysterical how nobody can go back and look at the facts of the case.
"He crossed state lines? False. He is a white supremacist? False. None of that is true.
"The lies that they can get away with spreading is just sickening and it is a disgrace to this country."
Carlson then questioned whether Rittenhouse was aware that media coverage could be dishonest.
Carlson said: "So before this, you are 17 years old so you are probably not watching cable news all day or deeply into politics, maybe you were.
"Did you know how dishonest media coverage of events could be?"
Rittenhouse said this trial was not meant to be a political issue or so polarizing.
He also said it was "obvious self-defense" when you look at the facts.
He said: "I didn't, I had never seen anything so polarising in my life.
"It is obvious self-defense if you look at the case, if you look at the facts."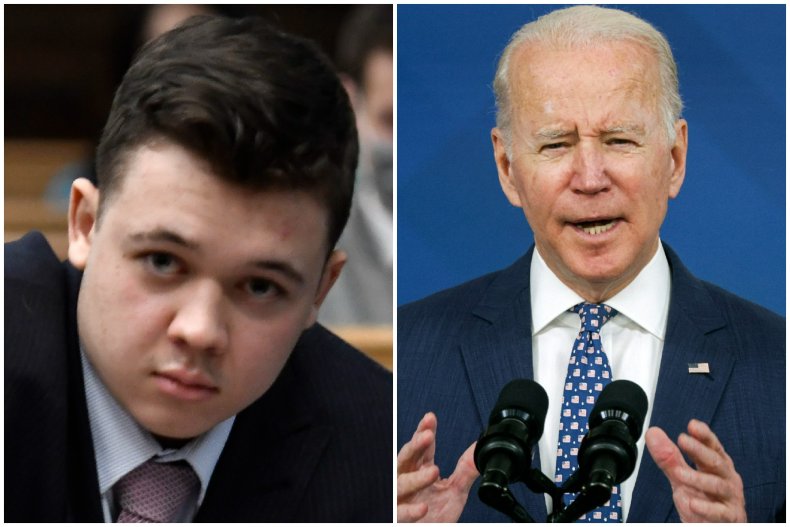 Rittenhouse also clarified that he was not racist and did support the Black Lives Matter (BLM) movement.
He said: "No matter what your opinion is or where you stand, this wasn't a political case, it shouldn't have been a political case, it was made a political case. It has nothing to do with race and the ways people are twisting this is sickening."
He added: "I'm not a racist person. I support the BLM movement, I support peacefully demonstrating.
"This case has nothing to do with race. It never had anything to do with race. It had to do with the right to self-defense."
Regarding those that had implied he was a white supremacist, Rittenhouse said he had a good team of lawyers and he would be looking into how to deal with this issue going forward.
Without outlining clearly what his intentions were he said he hoped there will one day be accountability for what they said.
Newsweek has reached out to the White House for comment.