Kyle Rittenhouse Supporters and BLM Protesters Clash Outside Courthouse Ahead of Verdict
Supporters of Kyle Rittenhouse and Black Lives Matter protesters were seen clashing outside the courthouse in Kenosha, Wisconsin, where the jury is deliberating whether or not to acquit Rittenhouse of five felony charges.
Video footage showed the two groups arguing in on the courthouse steps Tuesday afternoon, with one white Rittenhouse supporter telling the crowd, "Move your Black a-- back."
Tensions appeared to grow as people gathered outside were heard yelling, "You shut the f-- up" and "you kill your own" at each other.
One video showed a heated confrontation between the two groups, before one of the BLM protesters steps in to tell someone from his group, "Don't feed into it. Let our voice be more powerful than this."
The woman behind him, who is seen holding a sign that reads "self defense is not a crime," is heard saying "I shouldn't get hurt over a sign."
While the Kenosha's Sheriff's Department released a statement early in the day announcing they would not be facilitating road closures or enacting curfews ahead of the verdict, local law enforcement was seen monitoring the situation outside the courthouse.
The jury has been deliberating for more than five hours. Rittenhouse is facing five charges in connection to the deaths of Joseph Rosenbaum and Anthony Huber as well as the injuries sustained by Gaige Grosskreutz.
The 18-year-old shot the three men using an AR-15 semi-automatic rifle on August 25, 2020, during the racial justice protest that followed in the days after the police shooting of Jacob Blake, a Black man from Kenosha.
Rittenhouse, who pleaded not guilty to all charges, contends he acted in self-defense.
Prosecutors and Rittenhouse's defense made their closing arguments in court on Monday after two weeks of trial.
Blake's uncle, Justin, was seen outside the courthouse on Tuesday, waving a Pan-African red, black and green flag. The BLM protesters told local media they were there to call for justice for the three men shot by Rittenhouse.
"You have no defense and so we're wasting time with you," Justin Blake was seen telling Rittenhouse's supporters.
"But just so you know, we won't be intimidated by nobody," he added.
"We as Kenosha activists call for peace as we always have. We vow to continue to prioritize the safety of our community. We denounce those who feel emboldened by the murders of Anthony and Jojo [Rosenbaum] to threaten, hurt or kill us," one of the protesters representing Kenosha's Black community said during an impromptu press conference.
Mark and Patricia McCloskey, the St. Louis couple who pleaded guilty for waving their guns at BLM protesters from their porch, were also spotted outside the Kenosha courthouse on Tuesday, but in support of Rittenhouse.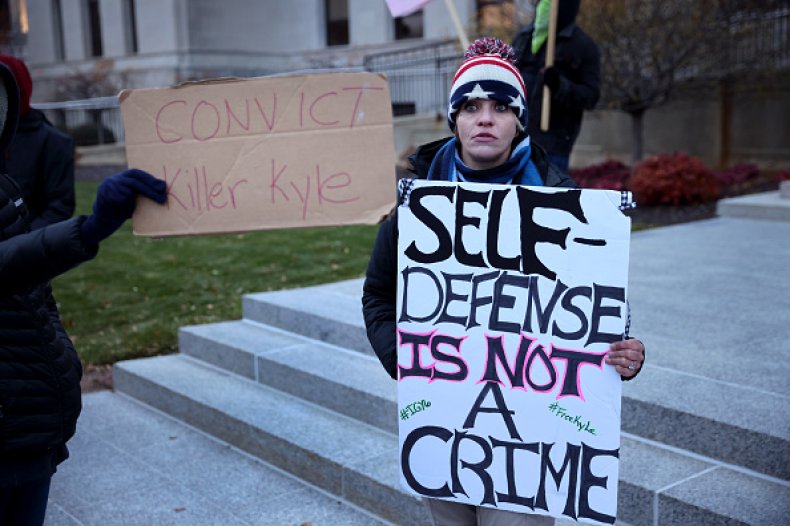 "[Rittenhouse is] a young man," Mark McCloskey told Fox News. "He was doing the best he could to help his country and to save businesses up here in Kenosha, and as his reward, he's having the rest of his life threatened."
Update 11/16/21, 5:16 p.m. This story was updated with comments from Justin Blake.