Kyle Rudolph made a game-winning catch in overtime to give his Minnesota Vikings a wild-card round over the New Orleans Saints on Sunday. After the wild celebration on the field, he said the locker room was a "zoo" with players, coaches, media and other personnel.
He said amidst the crazy scene in the locker room, a "member of the media" asked if Rudolph would donate his gloves for a charity benefit. Rudolph, one of the better tight ends—both on and off the field in the National Football League—figured why not? To take it a step further, Rudolph offered to sign the gloves in hopes the charitable benefit could make even more money.
A couple of days later, news broke to Rudolph that his game-winning gloves had been sold on eBay—for $375.50.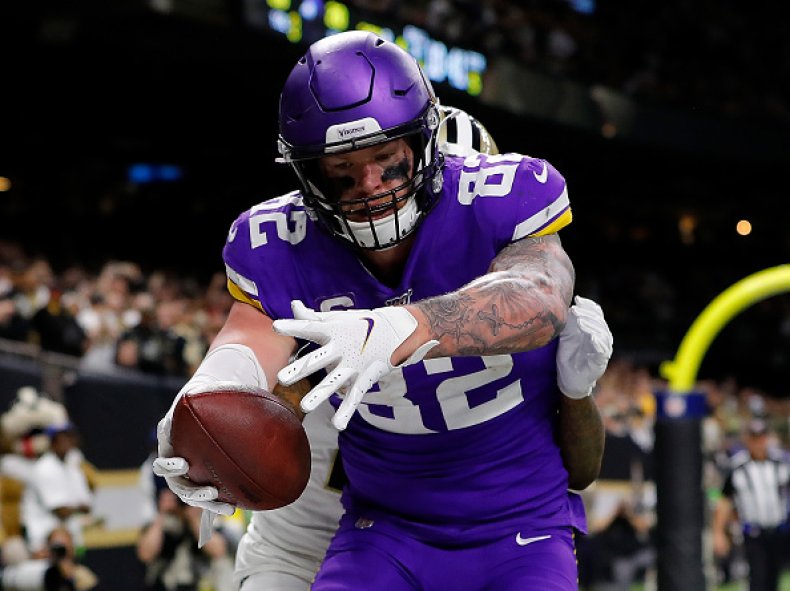 Rudolph expressed his dissatisfaction on Twitter, and explained that he had never seen the "media" member before, and said, "well, he got me."
"I saw this.. it's disappointing. A member of the media in the locker room after the game asked if he could have my gloves for a charity benefit, so I said of course and I will even sign them for you! Well he got me, sold on eBay 3 days later," Rudolph wrote.
Rudolph went on to say, "And to clarify it was not anyone I knew.. so wasn't a local reporter I see daily or national reporter. Locker room was a zoo, he asked for them, I said of course and even offered to sign them."
Rudolph already puts in a great amount of time with children and charities in Minnesota. Aside from his football camps for all skill levels, he shows full support at the UMN Masonic Children's Hospital, and it's one of the reasons he is a finalist for the Walter Payton Man of the Year award, given to an NFL player annually who donates time to local charities and causes. It's one of the highest honors in the NFL.
His heart is as big as his game-winning catch on Sunday, which is probably why he gave up his gloves, and signed them, for a total stranger.
Here are two big unknowns evolving around this story:
We don't know if the person he gave the gloves to was, indeed, a member of the media. Stadium officials have access to locker rooms—and the game was in New Orleans. If it was a media member, then they could have been from a team covering New Orleans or writing a sidebar on the Vikings.
Secondly, the eBay post does not clearly state whether the gloves being sold was for a charity instead of personal gain. Could they have been sold on eBay for a specific charity? Perhaps.
Me personally, I'm a reporter and editor with longevity in my craft. I have also been a part of various charities that collect items for auctions and silent auctions to raise money for youth and seniors in my county.
As a reporter, things you don't do are: cheer in the press box, cheer on the sideline or cheer at games, period. You also don't ask athletes or coaches for charity items at times like that—after a big win. It's something you do when no one else is around, and preferably once you've built a good repertoire and trust with the athlete or coaches. Still, even then I steered away from ever asking for donations from athletes or coaches.
When I did take donations for charity events, the business or person that donated something was always told which charity was involved.
That said, Rudolph probably lost a lot of trust in handing over something in this situation ever again, especially to someone he does not know.
The Vikings play again this Saturday in the NFC Divisional round at the San Francisco 49ers. Kickoff is set for 4:35 p.m. ET. The winner moves on to the NFC Championship game the following weekend.
About the writer
Scott McDonald is a Newsweek deputy night editor based in Cape Coral, Florida. His focus is assigning and writing stories across all topics, from news to politics, business, weather, sports and international news. Scott joined Newsweek in 2018 after a lengthy career of print journalism in Texas, including The Dallas Morning News, where he was a sportswriter, and he's a voter for the Heisman Trophy. He has been a newspaper editor-in-chief and also a newspaper publisher. He is a graduate of The University of Texas at Austin. You can get in touch with Scott by emailing s.mcdonald@newsweek.com. Languages: English