Kylie Jenner Baby Bump Costume Could Be Halloween's Most Popular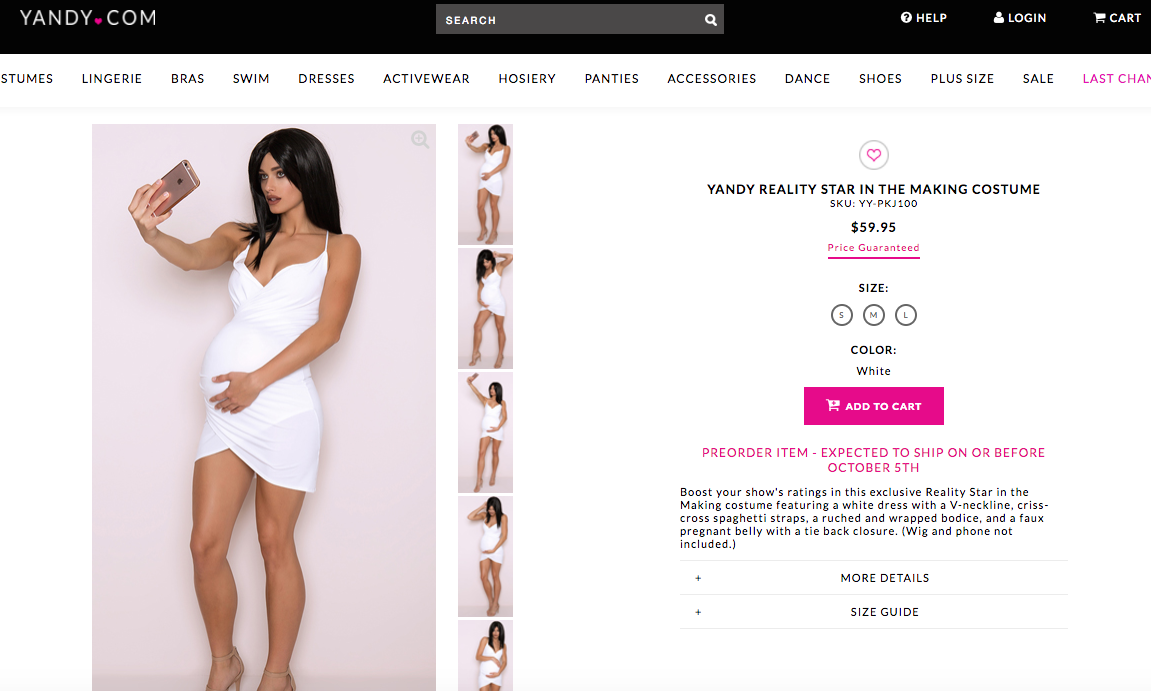 Kylie Jenner hasn't even confirmed her internet-busting pregnancy, but one company is already selling her baby bump as a Halloween costume.
Yandy — which dominates the niche market of timely, celebrity-themed garb — can't name Jenner in ads for its $59.95 ensemble of a black wig, a form-fitting runway dress and faux pregnancy belly, but the resemblance to Jenner in the"reality star in the making" costume is clear.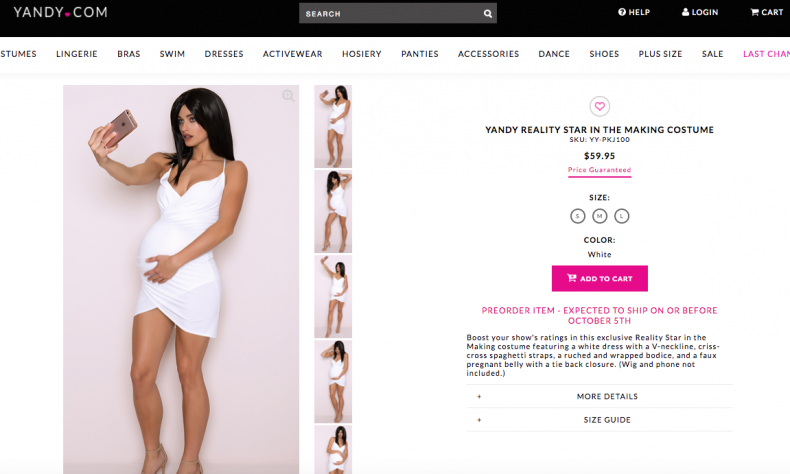 Yandy says the costume will help "boost your show's ratings," just as Jenner's pregnancy rumors are helping her show. "Keeping Up with the Kardashians" got its own baby bump on Sunday as fans tuned in expecting to hear Jenner confirm TMZ's Friday report that the youngest Jenner sister was pregnant with boyfriend Travis Scott's child.
Instead, nothing. Many fans now say the 20-year-old model, with an estimated $41 million net worth, is teasing them on social media by covering up her belly in pictures.
In recent weeks, the social media star has been spotted wearing loose fitting clothes and posting old photos on social media further sustaining pregnancy rumors.
The Yandy costume is based on a look Jenner wore last week.
The Jenner costume is just the latest gimmick from Yandy, which also created a Harry Potter themed lingerie, a fake news dress and a sexy Cecil the lion costume after the beast's slaughter in 2015.
Yandy isn't the only costume company to rip off the Kardashian clan's clothes. Last fall, Costumeish, unveiled its "Parisian Heist" robbery victim costume that some said was too soon following Kim Kardashian's robbery at gunpoint.
In 2015, costume makers began selling a Caitlin Jenner ensemble based on the star's Vanity Fair cover. Critics said the costume was making fun of the transgender community.
The Kylie Jenner costume has already led to think pieces. Some say the costume is offensive since Jenner has yet to confirm the rumors.
But the rumors are not stopping fans from planning out their own baby bump inspired Jenner looks. Twitter users are even proposing a couples costume look by dressing as rapper Scott and makeup mogul Jenner.