Kylie Jenner Halloween Costume Ideas 2018: Star Launches Spooky 3D Makeup Collection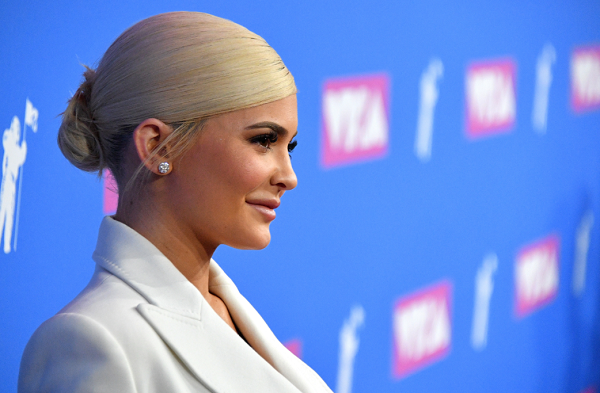 Kylie Jenner likely knows many of her fans will attempt to embody her on Halloween, so she's helping them pull off the effort with a new line of Halloween-themed makeup by Kylie Cosmetics. The 21-year-old makeup maven announced plans to release a Halloween collection on Instagram on Wednesday.
The specialty line will include all the Kylie Cosmetic fan favorites like lip kits featuring glitter lip gloss called "Hello Ghordeous" and Vampire-esque lipsticks in shades named "bite me." The collection also includes a series of highlighters as well as matte and shimmery eyeshadow palates. All the products have bewitching names like "Nightmare," "Monster," "Haunt It," "Spider Bite," and "Hex on My Ex."
The color palettes and creepy names of products aren't the only reason beauty gurus will be vexed by Jenner's latest collection. The packaging is pretty rad too and features designs of mummies and vampires, bats and ghosts—all of which come alive in 3D. Every purchase of the Halloween collection comes with a set of bat-covered 3D glasses.
When asked by a fan what she would be for Halloween, the makeup maven said she was thinking about three different costumes but didn't give any hints.
Price details for the Halloween line have yet to be announced, but if Jenner's previous specialty collections are any indication, then bundles of highlighter, eyeshadow palettes and lippies will likely cost around $124 while separate items like single lip glosses and lipsticks will range from $16 to $17 and solo eyeshadow palettes will cost about $45. The bundle for Jenner's previous collection in collaboration with her best friend Jorydn Woods was priced at $124.
The Halloween collection is the latest expansion of Kylie Cosmetics, which has amassed a net worth of more than $800 million since Jenner first launched the makeup line in 2016, according to Forbes.
The line is slated to launch October 12.