Kylie Jenner's a Self-made Businesswoman? Not According to Dictionary.com's Definition of the Word, Forbes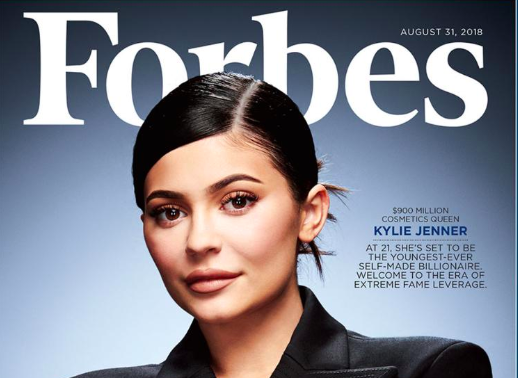 Forbes magazine proclaimed makeup mogul Kylie Jenner as a self-made businesswoman in their Wednesday magazine cover, but not everyone was convinced—including Dictionary.com. Their Twitter account provided a definition of the word to back-up their claim.
"Self-made means having succeeded in life unaided. Used in a sentence: Forbes says that Kylie Jenner is a self-made woman," they tweeted Wednesday. The tweet was liked more than 1,000 times and garnered hundreds of comments for Dictionary.com's response.
For the headline of their story, Forbes wrote: "How 20-Year-Old Kylie Jenner Built A $900 Million Fortune In Less Than 3 Years." Jenner's company alone is valued at nearly $800 million and she owns 100 percent of it.
They noted she profited off of scandal. Just like Kim Kardashian West became famous after her sex tape leaked, Jenner capitalized off of the 2014 "Kylie Jenner Lip Challenge," where people inflated their lips to emulate the youngest Kardashian-Jenner sister. A year later, she admitted to getting lip injections and then created her famous lip kits using $250,000 of her earnings from modeling gigs.
What they don't mention is that at 18 years old, most teenagers don't have $250,000 to start their own business. Jenner comes from one of the most famous families in the world, who made their money and fame from reality television. Before that, the late Robert Kardashian Sr. was a prominent California lawyer who was on O.J. Simpson's defense team. While it's undeniable she built a $900 million empire is less than three years, like Forbes noted, it doesn't seem accurate to call her "self-made."