Kylie Jenner and Travis Scott To Respond To Tyga? The Instagram Message She Posted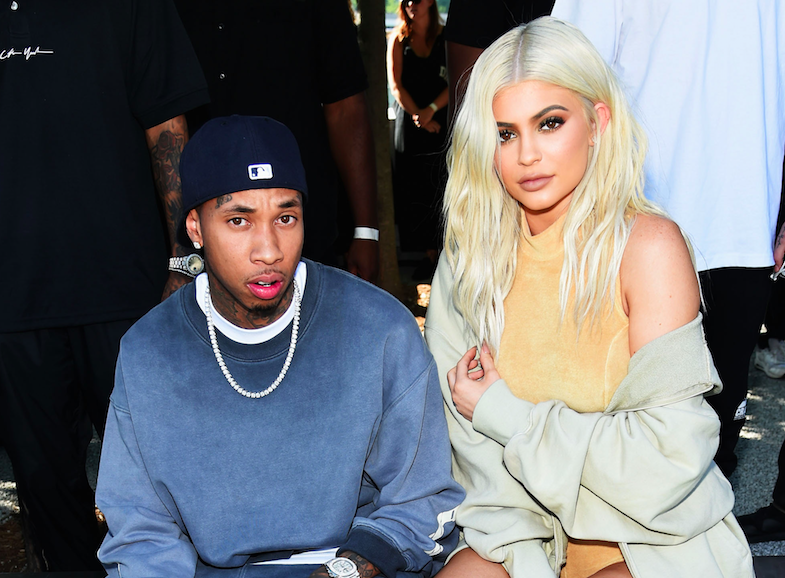 Keeping Up With the Kardashians star Kylie Jenner is as famous as she is today because of her ex-boyfriend, Tyga. At least, that's what the "Rack City" rapper wants people to think. The star appeared on Nicki Minaj's Queen Radio Thursday and slammed his former lover, who he dated on-and-off for several years. He said he didn't miss her, but the most explosive assertion that he made was that he influenced her career. Tyga said his advice to the Calabasas native was to black people on her side, that she needed culture.
Since Tyga's late night accusations, Jenner hasn't responded. Neither has her boyfriend, Travis Scott. Scott's album Astroworld debuted at No. 1 on the Billboard charts and Tyga doesn't hold any grudges against him.
Before Tyga took responsibility for Jenner's career, the makeup mogul took to social media to reveal her lip kits would be available at Ulta. "I'm so excited to let you guys know that @KylieCosmetics will be coming to all @ultabeauty stores around the country this holiday!" she tweeted Thursday. "More to come."
"We are thrilled to confirm our exclusive partnership with Kylie Cosmetics which will be launching in all stores and online later this year," Mary Dillon, Ulta Beauty's chief executive officer, confirmed in a statement Thursday. "Kylie Jenner is a highly influential force in the beauty industry."
Last month, Forbes named her a self-made billionaire. "At 21, she's set to be the youngest-ever self-made billionaire. Welcome to the era of extreme fame leverage," the cover read.
Various people took issue with Forbes calling her "self-made." Even the dictionary got involved. "Self-made means having succeeded in life unaided. Used in a sentence: Forbes says that Kylie Jenner is a self-made woman," Dictonary.com tweeted at the time.
Whether she's self-made or not, Tyga seemingly tried to take credit for her success Thursday. "You need black people to f*** with you cause you need culture. I had a lot to do with all that," he said about influencing her.
Jenner, who allegedly started dating Tyga when she was 17 and he was 25, hasn't publicly responded to the rapper's insinuation. Aside from promoting her makeup, she posted a photo of herself that showed off her platinum blonde hair and dark roots. "Ready for the weekend," she wrote.
On her story, Jenner posted a picture of herself with best Friend Jordyn Woods. "Congratulations jordy on the launch of @secndnture I'm so proud of you," she wrote in an earlier post.
While Jenner hasn't spoken out, there's a chance her famous sisters might. The Kardashians have a history of trolling their sister's exes. When Tristan Thompson cheated on Khloé Kardashian Kim publicly unfollowed him on Instagram and when Younes Bendjima and Kourtney Kardashian broke up, Khloé seemingly shaded him.