Kylie Jenner and Travis Scott's Relationship: A Definitive Timeline
Kylie Jenner and Travis Scott are one of Hollywood's hottest couples but also one you may struggle to keep up with. The pair first met in 2017 and ten months later in February 2018, Kylie had given birth to their daughter Stormi. Over the past four years, the couple has been on and off and appear to be back together again as of June 2021.
Newsweek has the full timeline of Kylie Jenner and Travis Scott's relationship.
A Definitive Timeline of Kylie Jenner and Travis Scott's Relationship
2017
Coachella
Kylie and Travis were first spotted hanging out together at the Coachella music festival in April 2017 and were even sapped by paparazzi holding hands.
In a recent cover story for GQ, Kylie shared they both do not actually remember when they first met but explained they had always known each other through mutual friends.
She also shared she thought Travis did not even like her when they met.
Kylie joins Travis on tour and at an NBA game
Shortly after they were spotted hanging at Coachella, Kylie decided to join Travis on his tour.
She told GQ in 2018: "He said, 'I'm going back on tour—what do we want to do about this?' Because we obviously liked each other," she said. "And I was like, 'I guess I'm going with you'... And then we rode off into the sunset."
Towards the end of April, they were seen sitting side by side at an NBA playoff game.
Kylie and Travis make their Met Gala debut
Kylie and Travis made their couple debut at the 2017 Met Gala in New York City.
Travis releases new music
In May 2015, Travis released the song "Butterfly Effect," with many fans suspecting the song is about his love for Kylie.
Although the song never mentions the Kardashian-Jenner sibling, he raps: "Need ya love, not a need it is a must / Feelin' stuck, you know how to keep me up / Icy love, icy like a hockey puck."
He also posted a photograph of Kylie with the caption: "BUTTERFLY EFFECT."
One month later, they got matching butterfly tattoos and Kylie covered the tattoo of the letter "T" she had on her ankle for her ex-boyfriend Tyga.
Also in June, Travis appeared on SZA's "Love Galore," where he raps about getting a girl pregnant. When the song was released, Kylie posted a video of herself mouthing the lyrics in Travis' verse.
2018
Stormi's birth
On February 1, 2018, Kylie gave birth to their daughter Stormi Webster.
Kylie kept her pregnancy a secret until five days after Stormi was born, despite rumors of her pregnancy surfacing in September 2018.
She announced her daughter's arrival on February 6, 2018 on Instagram with the caption: "Stormi Webster."
She then posted a 12 minute long emotional video of her pregnancy journey alongside the caption: "I'm sorry for keeping you in the dark through all the assumptions.
"I knew for myself I needed to prepare for this role of a lifetime in the most positive, stress-free, and healthy way I knew how."
Coachella anniversary
On April 13, 2018, one year after they were first spotted hanging out, Kylie and Travis returned to Coachella.
Met Gala anniversary
Time flies. Kylie and Jenner attended the 2018 Met Gala, one year after they made their debut as a couple.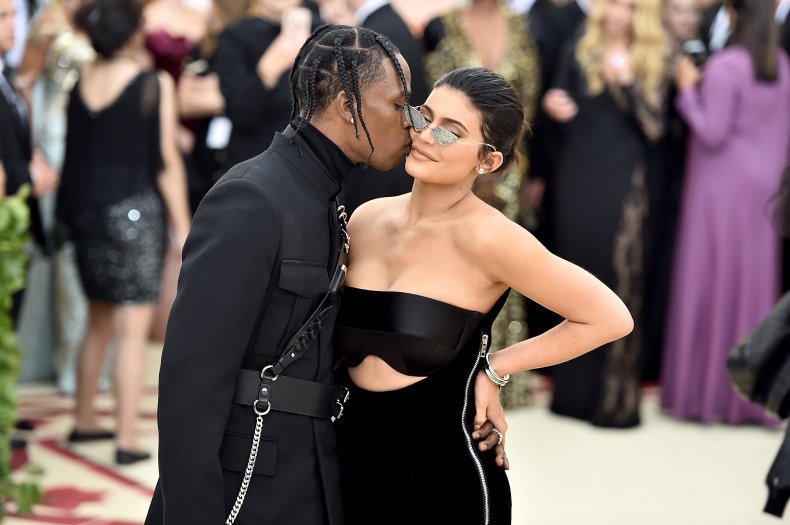 First joint photoshoot
In July 2018, Kylie and Travis posed for GQ together, marking their first joint cover shoot.
2018 MTV Video Music Awards
Kylie and Travis attended the 2018 MTV Video Music Awards together, where Travis performed a melody of songs from his album Astroworld.
One of those songs was "Sicko Mode," where he raps about Stormi and Kylie with the lyrics: "Passes to my daughter, I'ma show her what it took / Baby mama cover Forbes."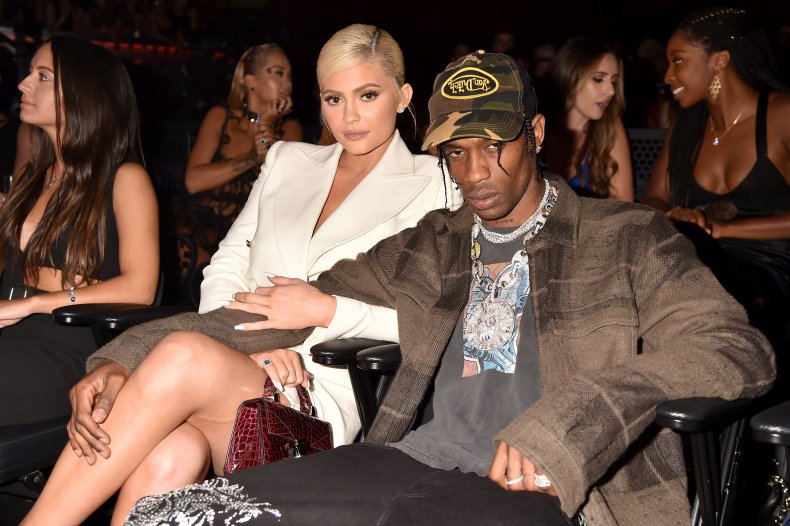 Marriage rumors
In an interview with Rolling Stone, Travis teased he was ready to propose to Kylie.
He said: "We'll get married soon. I've just got to sturdy up—I've got to propose in a fire way.
"It got to a point where I was like, 'I need her with me to operate. She's that one.'"
2019
Met Gala no.3
Kylie and Travis attend their third Met Gala on May 6, 2019.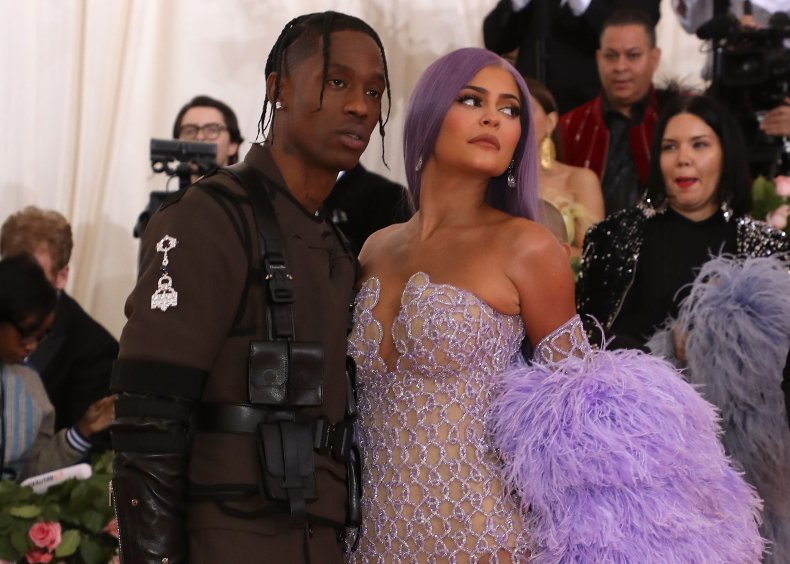 Playboy's Pleasure Issue
In September 2019, Kylie and Travis let fans take a closer look into their lives as they posed for Playboy's Pleasure issue.
Kylie was featured on the cover and photographed by Sasha Samsonova. Travis also appeared in several photos and clips and served as the creative director. He also interviewed Kylie for the issue, where she opened up about their sex life.
Kylie and Travis break-up
On October 3, 2019, just days after Kylie was spotted attending the wedding of Hailey Baldwin and Justin Bieber, Kylie confirmed she and Travis had gone their separate ways.
Writing on Twitter, Kylie wrote: "Travis and i are on great terms and our main focus right now is Stormi.
"Our friendship and our daughter is priority."
2020
Back together?
In March 2020, Kylie posted a series of old photos on her Instagram story of her and Travis, sparking reconciliation rumors but neither one of them confirmed they were back together.
2021
A whole year passed before rumors of Kylie and Travis being back together resurfaced.
In May, Kylie flew to Miami to celebrate Travis' 30th birthday and even posted a photo with Travis in the club on her Instagram story.
Kylie and Travis step out in public
On June 15, 2021, Kylie and Travis stepped out in public together, attending the 72nd annual Parsons Benefit, alongside their daughter Stormi.
At the event, Travis was being honored as a "visionary" in fashion, technology, and the arts. In his acceptance speech, he gave a shoutout to Kylie and Stormi, stating "Stormi, I love you and wifey, I love you".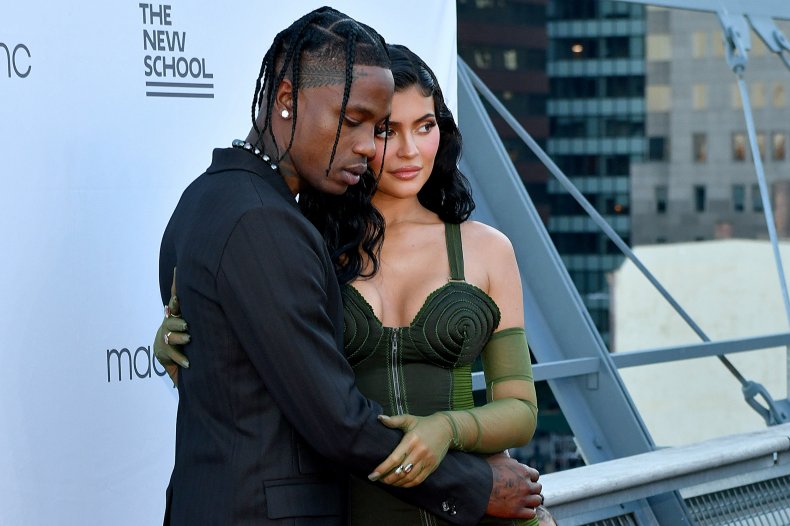 Since then Kylie has posted several snaps on her Instagram of Travis, the most recent being on Instagram where she wished him a "happy father's day."
Alongside a picture of them leaning in for a kiss, Kylie wrote: "happy father's day @travisscott one day isn't enough to honor the dad you are. we are so blessed to have you .."
As for the current status of their relationship, it is yet to be confirmed.
Kylie Jenner announces she is pregnant
On Tuesday, September 7, Kylie took to Instagram to share she was pregnant with her and Travis' second child.
The adorable video begins with Kylie revealing her positive pregnancy test result and embracing a delighted Travis. Alongside their daughter Stormi, the family visit Kylie's doctor where they are told Kylie is just "days away" from hearing a heartbeat.
The video then flashes through clips of Kylie sharing her happy news with Kris Jenner, a celebratory family party and the cutest clips of Stormi embracing Kylie's baby bump.
Newsweek has contacted Kylie and Travis' representatives for comment.