Kylie Jenner's Astroworld Nod at Kids' Party Slammed After Fatal Concert
Kylie Jenner has been criticized for styling her children's joint-birthday party around their father Travis Scott's 2018 Astroworld album cover—the same theme used at the Astroworld Festival, where 10 attendees died in 2021.
As well as the 10 fatalities, hundreds of fans were left injured after a crowd surge toward the stage led to a deadly stampede among the 50,000-strong crowd at Houston's NRG Park Stadium on November 5, 2021. Headliner Scott was hit with almost 400 lawsuits in the aftermath of the tragedy.
However, Jenner, 25, sparked backlash on Wednesday, when she shared images of the party she hosted for he daughter Stormi, 5, and son Aire, 1, showing that she had revived the Astroworld theme. The children's birthdays are one day apart.
In photos shared on Jenner's Instagram Stories of the celebratory gathering, guests were able to walk into the mouths of large inflatable heads that were personalized to resemble the children, much like the entrance used at the NRG Park Stadium in 2021.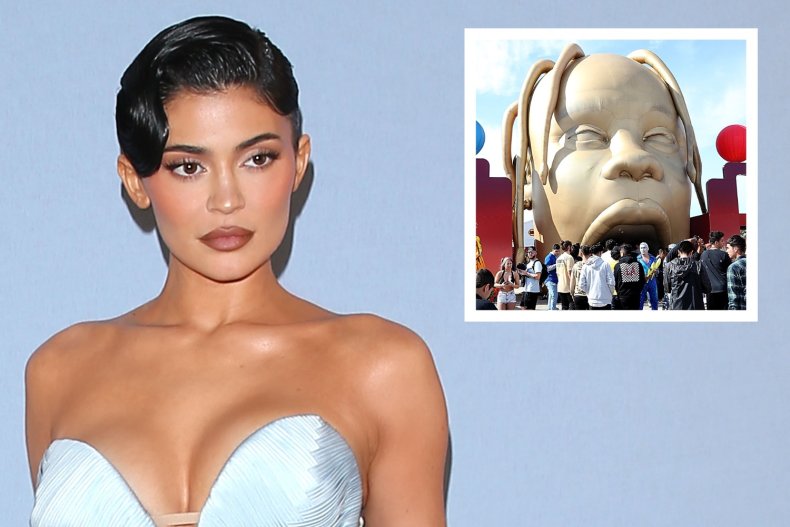 Photos of the children's party show a Stormi-themed tunnel with archways of pink and rainbow-colored balloons and one for Aire decorated with toy cars and a replica of California's Pacific Coast Highway.
While The Kardashians star Jenner had used the same Astroworld-inspired theme for her daughter's previous birthday parties, she appeared to have retired it in 2022, with celebrations taking place three months after the Houston tragedy.
The revival of the theme was met with backlash across social media, where the cosmetics mogul was accused of being "heartless and distasteful."
Sharing screengrabs of images from the children's party, one Twitter user wrote: "@KylieJenner basically said 'F*** YOU!' to the families, friends & people that lost their loved ones at Astroworld. Using this theme for her son's birthday is heartless and distasteful. Even though it was Travis's concert, theming her son's birthday from a tragedy is disgusting."
Another tweeted that Jenner "using Astroworld branding for her children's birthday party is a bit scary to me."
"Kinda in bad taste for Kylie to decorate her kids birthday party like Astroworld considering what happened," commented another.
"Kylie, babe, we need to retire the 'Stormiworld' theme for Stormi's birthday. After the Astroworld tragedy," another Twitter user suggested. "I think it's time to find Stormi another birthday theme…"
Others defended the decision to revive the theme at the children's party, with one Twitter user writing that the large heads were part of Scott's brand "long before those ppl died. They aren't 'making a decoration' out of their deaths."
Shortly after the Astroworld Festival tragedy back in 2021, Jenner released a statement on Instagram.
"Travis and I are broken and devastated," she said. "My thoughts and prayers are with all who lost their lives, were injured or affected in any way."
"And also for Travis who I know cares deeply about his fans and the Houston community. I want to make it clear we weren't aware of any fatalities until the news came out after the show and in no world would have continued filming or performing," she continued.
"I am sending my deepest condolences to all the families during this difficult time and will be praying for the healing of everyone who has been impacted."
In December 2021, Houston-native Scott sat down for his first interview about the tragedy, saying that the deaths and injuries put him on an "emotional rollercoaster."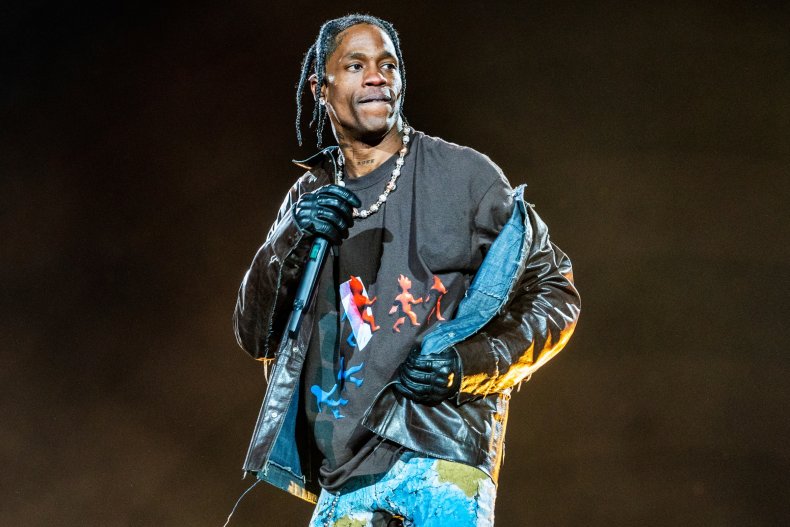 "I've been on different types of emotions, an emotional rollercoaster," the rapper told Charlamagne Tha God. "It gets so hard because I always feel connected to my fans, and I went through something and my fans went through something and people's parents went through something and it really hurts.
"It really hurts the community, it hurts the city. It's just been a lot of thoughts, a lot of feelings, a lot of grieving, and just trying to wrap my head around it."
In the aftermath of the tragedy, Scott offered to pay for the funerals of those who had died in the stampede. His representatives also announced that he would be offering one-on-one therapy for those who were impacted by the events.
In March 2022, he announced the launch of a charity project focussing on a number of community initiatives, including improving safety measures for concertgoers.