Kylie Jenner's Snapchat Proves She's Not Pregnant, According to Some Fans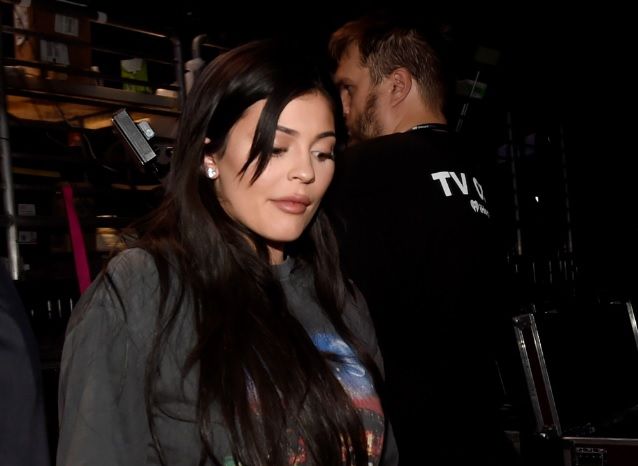 Either Keeping Up With the Kardashians star Kylie Jenner is pregnant, or she's pulling off one of the biggest scams in Kardashian-Jenner history. The youngest sister of the famous family has not confirmed her pregnancy, but she's kept her typically taught tummy hidden from the public, which only fueled speculation about her possible pregnancy.
After she hid her potentially burgeoning baby bump on Halloween—a time when Jenner used to take advantage of showing off her curvaceous figure—the makeup mogul posted a picture to Snapchat Sunday of her buying junk food at a convenience store. The photo showed Pringles, Cheetos, Funyuns and other treats, but eagle-eyed fans noticed there was something on the counter that shouldn't be there—tampons.
The argument could be made the tampons were for someone else, but Jenner was traveling with sister Khloé Kardashian, who is also reportedly pregnant.
If that weren't enough, ex-boyfriend Tyga claimed Jenner's pregnancy was a hoax, even though in September he claimed the child was his. "I didn't comment on anything. I didn't comment on anything. It was a fake story. It's all a fake story," the rapper told Metro. "Hell nah, that's my kid."
While Jenner didn't deny her pregnancy, she accused the paparazzi of altering pictures that claimed to show her bump. "First of all if you're going to Photoshop my photos blogs/paps!! Check for the crooked lines in the background. 2nd photo is clearly altered," she wrote in a Sunday tweet.
The Daily Mail posted the "exclusive photos" and denied changing them. "DailyMail.com can confirm the pictures have not been digitally altered," they wrote.
A photographer from X17Online, the agency that provided the images to the Daily Mail, confirmed they were authentic. The pictures are "100% REAL! No Photoshop, #nofilter, no additives, no preservatives—all organic and all REAL!" it wrote Sunday.
Travis Scott is supposedly the father of Jenner's rumored child. The couple traveled to Houston last month and "seemed to be in good spirits," an insider told Us Weekly on October 26.
With the pregnancy gossip abuzz, Jenner took to Instagram to promote her beauty line, Kylie Cosmetics. "I'm so excited to announce my @kyliecosmetics pop-up shops at @topshop!!" she wrote Friday. "My holiday pop-ups will open at 7 Topshop locations across the country, Los Angeles, NYC, Miami, Chicago, Houston, Las Vegas and Atlanta this November. Stay tuned for more!"