A 26-year-old Oklahoma woman named Kyndal McVey is suing a 45-year-old former Air Force veteran named Alexander Feaster for "reckless disregard" and "negligence" after he shot her when she removed a Nazi flag hanging outside of his home.
According to police, on June 28, 2020, McVey was at a party in a house across the street from Feaster's home. Around 2:55 a.m. local time, McVey approached Feaster's residence and pulled down one of the two Nazi flags hanging outside of his home on a dare.
When running back across the street with it, Feaster reportedly emerged from his front door and fired several shots with his rifle, striking her in the lower abdomen and legs. She was taken to the hospital and survived.
While investigating, officers with the Waukomis Police Department noticed that Feaster had placed a chair facing his front door and had a large ashtray sitting nearby with several cigarette butts.
"It appeared that Mr. Feaster was anticipating an incident to take place and had been watching from that spot," a sheriff's deputy reported.
Sheriff's Office Deputy Marshall Woodson told the Enid News & Eagle that footage showing Feaster firing his weapon revealed that McVey "did not appear to be in any way a threat to Feaster due to her obviously running away from his residence with only a flag in her hand."
McVey is now suing Feaster for $75,000 in medical expenses, mental and physical pain and suffering, lost time and any impairment or change in her physical or mental condition which could also lead to wrongful death.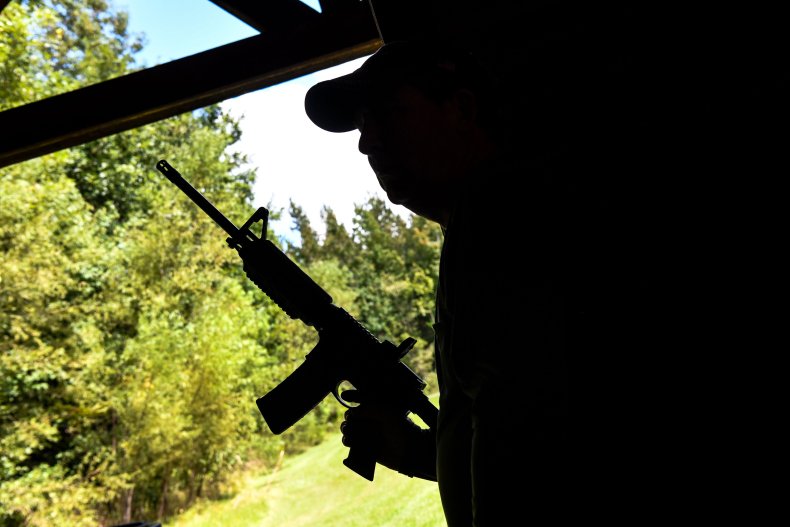 Police arrested Feaster and charged him with assault with a deadly weapon and shooting with intent to kill. He was released on a $75,000 bail and is scheduled for a March 5 court hearing.
However, a court filing by Feaster's attorneys states that he only "acted in self-defense" because he was "isolated", "alone" and afraid of "imminent danger of death or great bodily harm." The filing said he had his flags stolen before and was under the belief that the other guests at the party across the street might be armed.
The filing also accused McVey of trespassing, larceny, hate crimes, violations of Oklahoma's anti-terrorism act and public intoxication, although McVey hasn't been charged with any of those crimes.
On the far-right social network Gab is a page bearing Feaster's name. The page is decorated with the image of a Nazi flag and bears the phrase "Meine Ehre Heisst Treue," German for "My Honor, is Loyalty," according to WFTV. The phrase was the motto of the Waffen-SS, the military branch of the Nazi party.
Feaster has said that he doesn't believe in "all the tenets of National Socialism"— the official name of the Nazi party—but he added that he considers the United States' current economic situation to be similar to that of Germany in the early 1930's when Nazi leader Adolf Hitler rose to power.
Newsweek contacted the Waukomis Police Department for comment.