KyoAni Fire Latest: Kyoto Animation Fans Post Messages of Support After Deadly Arson Attack on Studio
Fans of Kyoto Animation Co have been expressing their shock after at least 12 people died following a suspected arson attack at the Japanese studio. Another 30 are unaccounted for and dozens have been injured.
Police said that a man had broken into the studio also known as KyoAni on Thursday morning and sprayed around an unidentified liquid. A 41-year-old male suspect believed to have started the fire was among the injured and has been taken to hospital.
The man had been heard shouting "die" as he set fire to the building, Japanese broadcaster NHK reported. It is not yet known what links he may have had to the company.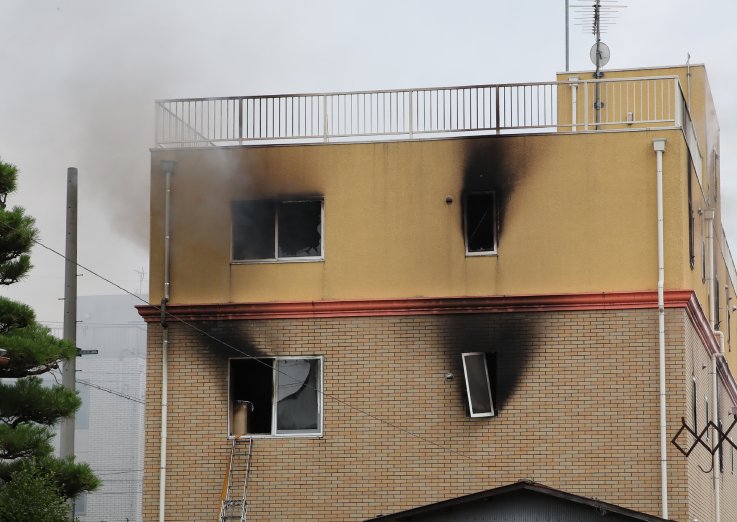 Witnesses said they saw explosions and black smoke coming out of the building.
"A person with singed hair was lying down and there were bloody footprints," said a 59-year-old woman who lives nearby.
"I heard a bang and the black smoke and the burning smell were awful," another told the agency Kyodo.
Bodies were found on the second floor of the three-story building after the fire had started at around 10.30 a.m.
A fire department spokesman told AFP. "We are trying to bring out several victims who are trapped inside the three-story building, including ones who may not be able to move by themselves.
The studio was the first of KyoAni which was set up in 1981. Its headquarters are in nearby Uji.
The company is known for its animations such as The Melancholy of Haruhi Suzumiya, A Silent Voice, Clannad and Miss Kobayashi's Dragon Maid.
Fans posted images of their favorite KyoAni shows. One said on Twitter: "My thoughts and prayers to Kyoto Animation Studio and its workers who brought many of us pure joy, tears and unforgettable moments. May those artists get well soon."
Another wrote: "I have love for Kyoto Animation productions, even more so today."
Sentai Filmworks has set up a GoFundMe page to help KyoAni staff affected by the blaze and by 3 a.m. (ET) had raised $42,000 of its $500,000 goal.
On the page, a message read "Sentai Filmworks hopes to help the KyoAni team during this time of need and asks that you join us in this endeavor.
Fans also used the page to post messages of support as well as donations. Rick Bhatia wrote: "Kyoto animation made so many beautiful anime that I have seen. This is truly devastating. Breaks my heart."
KyoAni Fire Latest: Kyoto Animation Fans Post Messages of Support After Deadly Arson Attack on Studio | World