Kyoto Animation Moves 'Violet Evergarden' Film Release Date, as Studio's Suspected Arsonist Talks With Police
World-renowned production company Kyoto Animation (KyoAni) has revealed the new official release date of the much-anticipated Violet Evergarden: The Movie. It will now open in theaters across Japan on April 24, 2020.
In September, the animation studio announced a delay in the film— a sequel to Violet Evergarden Gaiden: Eternity and the Auto Memories Doll—initially set to premiere in January 2020. The decision came after a fire broke out in the studio on July 18, killing 36 people and injuring 33 others.
News of the rescheduled movie release occurred on Saturday, amid other reports that the suspected arsonist behind the deadly fire, Shinji Aoba, was participating in "informal" talks with Kyoto police.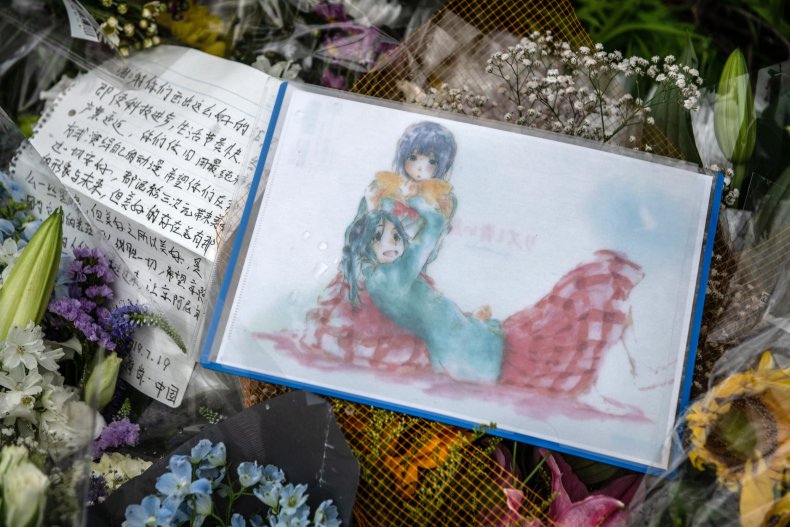 According to The Japan Times, Kyoto's Prefectural Police force secured a warrant to arrest Aoba "on suspicion of murder and attempted murder" for the 70 people inside the KyoAni building on July 18. The newspaper went on to report that Aoba—who, while in "stable condition," has been undergoing treatments at a hospital in Osaka—cannot be taken into custody until a medical professional deems him healthy enough to be detained.
The warrant for Aoba's arrest alleged that the 41-year-old started the fire in the KyoAni studio around 10:30 a.m. by covering the floor with gasoline and setting it aflame, The Asashi Shimbun reported. Witnesses heard him shout the word "Die!" before fleeing the scene—while being badly burned himself—as noted by the BBC.
Aoba told police arriving to the scene that he started the blaze because the company had allegedly plagiarized his novel, according to witnesses.
Reportedly, the building at the time did not have sprinklers or indoor fire hydrants, according to a fire official, although they were not legally required under fire regulations.
Created in 1981, KyoAni is responsible for popular anime franchises such as The Melancholy of Haruhi Suzumiya and Air. The company is also behind the 2016 animated feature, A Silent Voice, which is currently available to stream in the U.S. on Netflix. In April 2018, Netflix also picked up Violet Evergarden, a 13-episode adaptation of the manga series by author Kana Akatsuki and illustrator Akiko Takase.
According to anime streaming site Crunchyroll, KyoAni took to the company webpage, expressing gratitude to their fans for bearing with them during the movie's delay, writing: "All the staff hope you can enjoy the film, with friends, when it opens." An updated trailer for Violet Evergarden: The Movie can now be seen on Kyoto Animation's official YouTube channel.