The man suspected of burning down an animation studio in Kyoto, Japan, was avenging the theft of his novel, it has been reported.
Japanese police have named Shinji Aoba, 41, as the suspect in Japan's worst mass killing for two decades, claiming that he entered the premises of the Kyoto Animation Studio with a trolley and at least one bucket of petrol.
He is alleged to have shouted "die" when he arrived at the studio, which is better known as KyoAni. He later admitted to police when he was detained, "I did it," the news agency Kyodo reported.
Aoba had a mental illness and had previously done time for theft. It is believed that he bought 20 liter gasoline cans at a hardware store and prepared the petrol in a park nearby, the Japanese broadcaster NHK reported.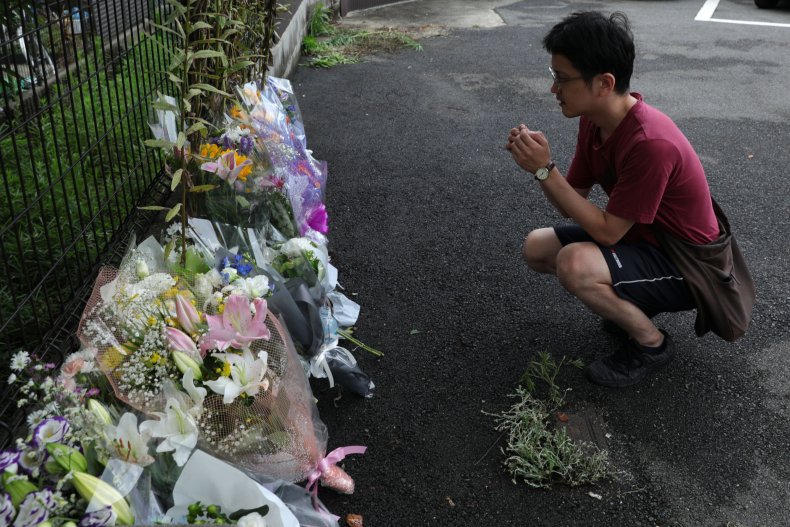 A woman who saw the man being detained said, according to NHK: "(He) seemed to be discontented, he seemed to get angry, shouting something about how he had been plagiarized."
The suspect told policemen, "They are always stealing. It's their fault," according to another witness who described the scene outside her house.
Footage broadcast on Japanese television showed the suspect on his back, suffering from burns and speaking to police. He is thought to have no link with the company. He lived in a suburb of Tokyo, about 300 miles east of Kyoto.
The New York Times reported that twice as many women as men worked as animators at the company and that 20 of the victims were women.
Details have emerged of the horrifying aftermath of the fire which also left dozens injured, including 10 critically. Bodies were found piled up on a staircase leading up to the roof from the third floor. The door to the roof was found to be shut and it appears that the victims had rushed there to escape the blaze but could not open the door, Reuters reported.
A Kyoto fire official said that the building did not have any sprinklers or indoor fire hydrants, although these are not legally required by the fire code.
Momoko Higuchi, a Tokyo-based architect, said that the building's structure of one spiral staircase penetrating through three floors acting as a chimney was the most effective way of starting a fire. "Because the fire was with petrol, the effect was like a bomb. Most died of smoke," he said, according to Channel News Asia.
The company was founded in 1981 and made a hit anime series about high school girls. Its popular output included Lucky Star from 2008, K-On! in 2011 and Haruhi Suzumiya in 2009.
It has an upcoming feature film, Violet Evergarden, about a woman who professionally writes letters for clients.