Kyrgyz President Signs New Constitution After Old One Vanished Mysteriously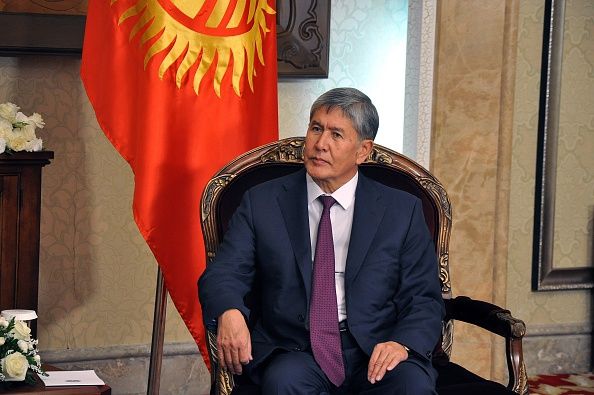 Three months after an embarrassing and fruitless search for Kyrgyzstan's vanished constitution, its president has signed and ratified a new one, delegating new powers to his prime minister.
The constitution was reported missing late last year when officials began debating changes they wanted to make to it, which would see the prime ministerial role assume responsibilities that the president has, such as appointing and dismissing ministers. The proposed changes were meant to be put to a national referendum, but critics of President Almazbek Atambayev said the vote could be a mere ruse to allow him to retain power.
In Kyrgyzstan, although possessing strong executive power, the president cannot run for more than a term—a deliberate clause introduced after protesters toppled an autocrat in 2010, to ensure peaceful transfers of power. Atambayev is the only Kyrgyz leader to take power peacefully and the country has shown the most promise of its neighbors in its democratic aspirations. His decision to empower the prime minister's position, following the imminent end of his presidency mirrors a common strategy by budding autocrats to retain power. However, Atambayev has vowed not to take another public office.
At the backdrop of this debate about meddling in the most central political document in their country, Kyrgyz officials discovered one troubling fact—they did not know where that document was.
After some pondering among parliamentarians, the president's office and the Ministry of Justice's archive declared they not only did not have a master copy of the document, they had also never had it. Despite intense media scrutiny and blushes for the state that was often treated as a flagbearer of democratization in the strongman-laden region, a crisis was averted. Prime Minister Farid Niyazov found a copy of the document, albeit unsigned, was published in 2010 in the state newspaper of record, meaning it was binding without having to be signed.
On Friday Atambayev signed a new copy of the constitution in public, declaring that more than 60 contradictions in the document had been amended, strengthening his country's sovereignty, national news agency 24 reported.
Besides the role of the prime minister, the changes also touched upon the phrasing of some terms, such as the description of marriage—once described as a union between two adults, now defined specifically as a union between a man and a woman. The changes also included cutting the clause that gave priority to international human rights treaties over other international agreements in Kyrgyzstan.
"Kyrgyzstan respects international partners will fulfill its commitments, but in strict compliance with the principles of national sovereignty and independence," Atambayev said, at the signing of the document. "Moving away from the once insurmountable antagonism between the legislative and executive branches of government, we have the opportunity to produce effective teamwork."
He once again vowed that Kyrgyzstan would not return on the road to authoritarianism and that the latest amendment should ensure that.