Kyrie Irving Apology Is 'Nothing Less Than Disingenuous': Jewish Group
NBA star Kyrie Irving issued an apology Thursday for posting about an antisemitic movie after his team announced he was suspended for "no less than five games."
However, the watchdog group StopAntisemitism is not satisfied with his statement or with Amazon for continuing to sell the movie.
"StopAntisemitism finds the latest 'apology' from Kyrie Irving to be nothing less than disingenuous," Liora Rez, Executive Director of StopAntisemitism, told Newsweek in a statement.
"To All Jewish families and Communities that are hurt and affected from my post, I am deeply sorry to have caused you pain, and I apologize," Irving's statement read in part. "I initially reacted out of emotion to being unjustly labeled Anti-Semitic, instead of focusing on the healing process of my Jewish Brothers and Sisters that were hurt from the hateful remarks made in the Documentary."
Irving's apology came soon after the Brooklyn Nets announced he was indefinitely suspended. The team's decision followed a Thursday press conference in which the point guard failed to apologize for posting a tweet and an Instagram story last week that shared an Amazon link to a 2018 film titled Hebrews to Negroes: Wake Up Black America. The movie has been widely described as containing antisemitic disinformation.
Irving had pledged $500,000 to the Anti-Defamation League, but the organization announced it would not accept his donation after he did not disavow the film.
"Why did it take two disastrous press conferences, a botched donation, and an indefinite suspension without pay just to get an apology that everyone knows is not his?" Rez said. "Once again, miseducation and ego are controlling a celebrity with a massive following and that is nothing short of dangerous."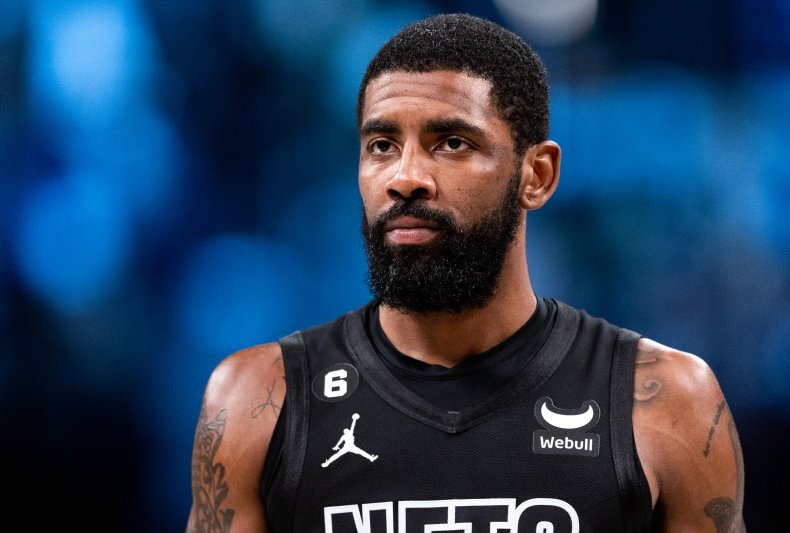 Nets owner Joe Tsai spoke out against Irving soon after the star athlete posted the social media endorsement of antisemitic work.
"I'm disappointed that Kyrie appears to support a film based on a book full of anti-semitic disinformation," Tsai tweeted on October 28. "I want to sit down and make sure he understands this is hurtful to all of us, and as a man of faith, it is wrong to promote hate based on race, ethnicity or religion.
He added in a follow-up message: "This is bigger than basketball."
Rez said StopAntisemitism appreciated Tsai's efforts but criticized the NBA for not doing more.
"While we applaud Nets owner Joe Tsai for his swift condemnation, it's been an exercise in futility to see NBA President Adam Silver's slow move to take action especially since he is Jewish himself," Rez wrote. "While we understand that Silver didn't want to be seen as overreacting to something that is personal to him, there have been many other offenses handled with a much quicker approach and antisemitism should be no different."
Rez also called out Amazon founder Jeff Bezos because his company continues to sell Hebrews to Negroes.
"And where is Jeff Bezos and Amazon in all this? The offensive book and corresponding documentary are now on the bestseller's list—why is revisionist history that peddles antisemitic conspiracy theories allowed to be sold?" Rez said in her statement. "StopAntisemitism is justifiably concerned about how this will eventually trickle down to an increase in violence against the Jewish people."
Newsweek reached out to Amazon for comment.