Kyrie Irving Playing 'Would Send Wrong Message' to City Workers: Eric Adams
New York City Mayor Eric Adams said on Monday that allowing Brooklyn Nets' star guard Kyrie Irving to play without being vaccinated against COVID-19 "would send the wrong message," to other city employees.
"Listen, I want Kyrie on the court. I would do anything to get that ring. So badly, I want it. But there's so much at stake here. And I spoke with the owner of the team. We want to find a way to get Kyrie on the court, but this is a bigger issue," Adams said during an interview with CNBC's Squawk on the Street.
"I can't have my city closed down again. It would send the wrong message just to have an exception for one player when we're telling countless number of New York City employees, 'If you don't follow the rules, you won't be able to be employed.'"
The remarks by Adams come shortly after he announced that New York City will be looking to reverse its COVID-19 vaccine and mask mandate for schools and public venues, such as restaurants and gyms.
"So long as our indicators show a low level of risk and we see no surprises this week, on Monday, March 7 we will also remove the vaccination requirements for Key2NYC — meaning indoor dining, fitness and entertainment venues," Adams said in a tweet on Sunday.
"We're taking this week to give business owners the time to adapt while we monitor the numbers to ensure we are making the best public health decisions for the people of New York."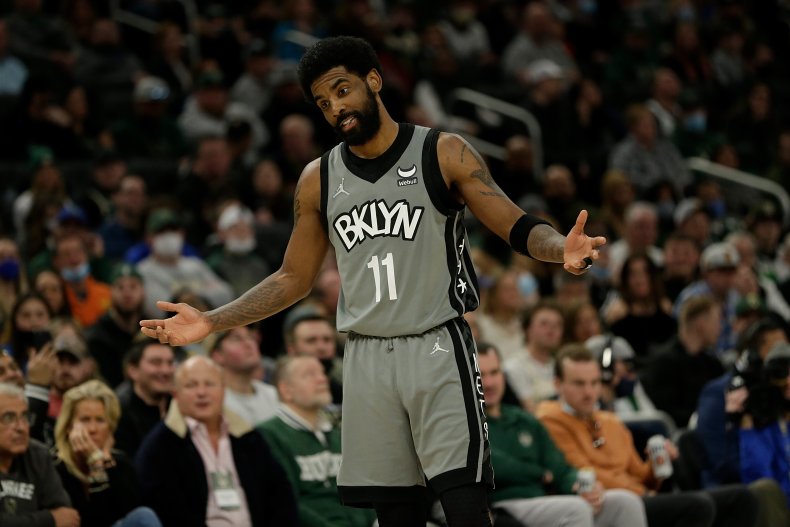 However, the COVID-19 vaccination mandate for city employees remains in place, with Adams saying during the interview on Monday: "Businesses have their vaccine mandates. City employees have their vaccine mandates. I have to follow the rules."
Adams also spoke about the NBA's policy that allows unvaccinated players from other teams to play at Brooklyn's Barclays Center, but not Irving.
"It makes no sense," Adams said. "And I don't know who thought of putting such a ridiculous rule in place of away teams can come and play when our teams from New York [can't]. But these are the rules and I have to follow the rules. If I don't, I'm going to open the door that's sending the wrong message to everyday employees."
Adams made similar comments last week, when he said that the COVID-19 vaccine rules in the city that limit Irving from playing at home games are "unfair."
Irving has continued to remain opposed to receiving the COVID-19 vaccine, and while speaking to reporters last week he said, "I'm the only player that has to deal with this in New York City because I play there. If I was anywhere else in another city, then it probably wouldn't be the same circumstances."
Newsweek reached out to the Brooklyn Nets for comment but did not receive a response in time for publication.