The 2021 NBA Playoffs have seemingly turned into an impromptu episode of "Fans Gone Wild" over the last few days. From popcorn throwing to spitting on players and name calling, fans have gotten ejected from NBA arenas the last four days at an alarming rate.
The latest was Sunday night when an apparent Boston Celtics fan tossed a water bottle toward the head of Brooklyn Nets star Kyrie Irving as the player left the court at TD Garden in Boston.
Irving had just lit up the scoreboard with 39 points in a 141-126 win over the Celtics, which gave the Nets a 3-1 lead in the first-round, best-of-7 series. Irving said NBA players have been treated like animals during the NBA playoffs this year.
"You're seeing a lot of old ways come up," Irving said after Sunday's game. "Just underlying racism and treating people like they're in a human zoo. Throwing stuff at people, saying things. There is a certain point where it gets to be too much."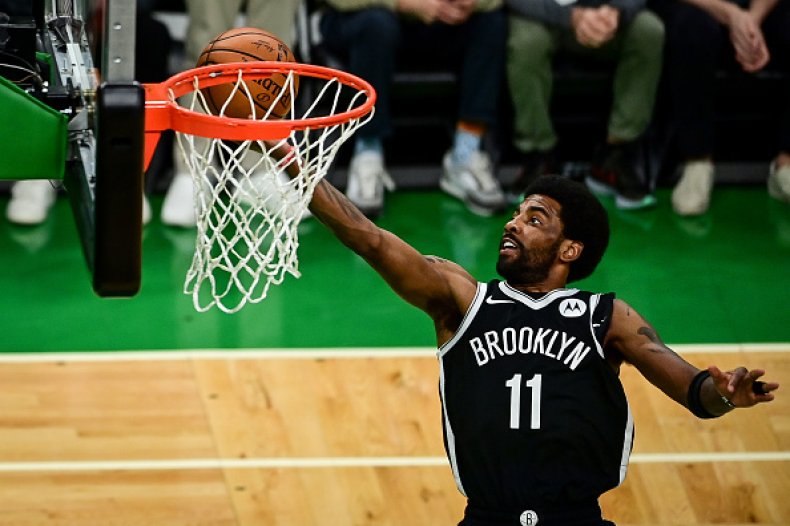 The fan who threw the bottle at Irving's head has been arrested, but this isn't an isolated incident this postseason, or even within the last week. On Thursday in Philadelphia during a first-round game between the home team 76ers and visiting Washington Wizards, a fan threw popcorn on Wizards guard Russell Westbrook as he was escorted off the court after an injury.
The night before that in New York, a fan at Madison Square Garden spit on Atlanta Hawks guard Trae Young.
The alleged perpetrators in Philadelphia and New York have been banned from those NBA arenas. The Knicks issued a apology to Young.
"We investigated the matter and determined that this patron, who is not a season ticket holder, did indeed spit on Trae Young, and for that reason, he is now banned from The Garden indefinitely. We apologize to Trae and the entire Atlanta Hawks organization for this fan's behavior. This was completely unacceptable and will not be tolerated in our venue. We have turned the information over to the appropriate authorities," the Knicks stated.
Westbrook was being taken into a tunnel on Thursday when a fan dumped popcorn on him.
Those two incidents prompted the NBA to release a statement regarding the fact that more fans are now invited to fill the stands during the playoffs after the COVID-19 pandemic.
"The return of more NBA fans to our arenas has brought great excitement and energy to the start of the playoffs, but it is critical that we all show respect for players, officials and our fellow fans. An enhanced fan code of conduct will be vigorously enforced in order to ensure a safe and respectful environment for all involved."
The NBA players' union also released a statement following the Westbrook popcorn dumping.
"True fans of this game honor and respect the dignity of our players," the National Basketball Players Association stated. "No true fan would seek to harm them or violate their personal space. Those who do have no place in our arenas. And their conduct is appropriately evaluated by law enforcement just as if it occurred on a public street."
Then there was Sunday in Boston, which led Nets superstar Kevin Durant to chime in.
"Fans got to grow up at some point," Durant said. "I know that being in the house for a year and a half with the pandemic got a lot of people on edge, got a lot of people stressed out, but when you come to these games, you have to realize these men are human. We are not animals, we are not in the circus.
"You coming to the game is not all about you as a fan. So, have some respect for the game. Have some respect for the human beings and have some respect for yourself. Your mother wouldn't be proud of you throwing water bottles at basketball players or spitting on players or tossing popcorn.
"So grow the f*** up and enjoy the game. It's bigger than you."
Uncommon Knowledge
Newsweek is committed to challenging conventional wisdom and finding connections in the search for common ground.
Newsweek is committed to challenging conventional wisdom and finding connections in the search for common ground.
About the writer
Scott McDonald is a Newsweek deputy night editor based in Cape Coral, Florida. His focus is assigning and writing stories across all topics, from news to politics, business, weather, sports and international news. Scott joined Newsweek in 2018 after a lengthy career of print journalism in Texas, including The Dallas Morning News, where he was a sportswriter, and he's a voter for the Heisman Trophy. He has been a newspaper editor-in-chief and also a newspaper publisher. He is a graduate of The University of Texas at Austin. You can get in touch with Scott by emailing s.mcdonald@newsweek.com. Languages: English