Kyrie Irving is taking his mask off and wants the rest of us to do the same.
The Brooklyn Nets star guard turned heads online with a cryptic tweet that went viral Wednesday.
Some interpreted Irving's tweet, which said "my mask is off, now take yours off. No fear," as a metaphor for him removing pretenses and fear and inviting the public to get real. They cited another of Irving's tweet from last week where he sent affirmation for followers to be themselves.
Irving's thoughtful and poetic nature lends itself to that argument, and pushing people to overcome their fears admirable. However the tweet was also met with criticism as some interpreted it to literally invite the public to remove their face coverings as the COVID-19 pandemic, and specifically the Delta variant, rages across the world.
More than 140,000 new cases and 2,000 deaths were reported across the United States on Tuesday, according to the CDC, including more than 3,000 in New York City. New York governor Kathy Hochul announced Wednesday that masks would be required for children at day care centers.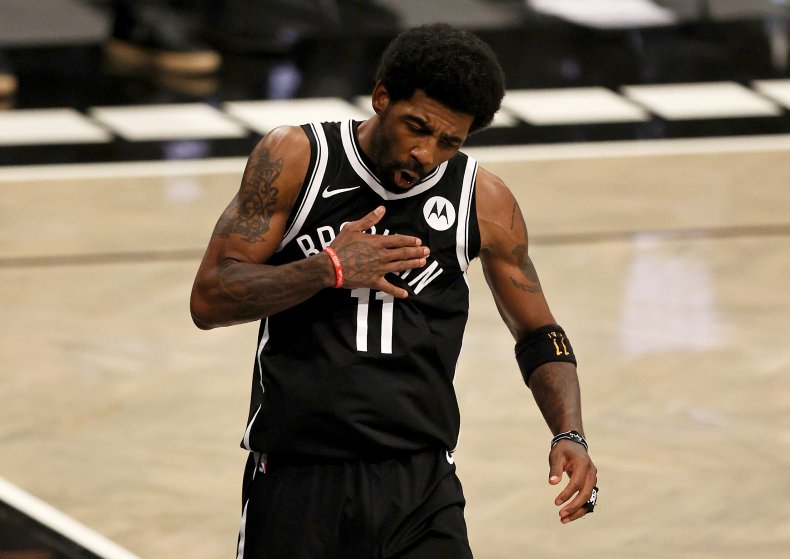 Irving's past actions give few clues about how the tweet should be interpreted. Irving ruffled feathers while taking a leave from the Nets early in the 2020-21 NBA season, and ESPN reported the NBA investigated him for attending a large birthday party for his sister without a face covering.
In August he posted photos of himself without a mask on a trip to Standing Rock Indian Reservation in South Dakota.
There is no indication whether Irving is vaccinated against COVID-19, but more than 90 percent of NBA players are, so the odds are good that Irving got his shots already.
However, if he is among the holdouts, he'll need to get jabbed in order to play at home this season. The NBA declared September 1 that members of the Nets, New York Knicks and Golden State Warriors would need to be vaccinated to abide by local government ordinances in New York and San Francisco or else they would be locked out of their team facilities.
Irving, who missed Brooklyn's final three playoff games with a sprained ankle, has reportedly been the subject of trade rumblings during the offseason, as the Nets were reportedly unhappy about his absence last season. However, his agents reportedly told FS1 on Wednesday that Irving would retire from basketball if the Nets traded him.
Irving and the Nets are betting favorites to win the NBA championship (+260) as training camps get set to open league-wide September 28.
Uncommon Knowledge
Newsweek is committed to challenging conventional wisdom and finding connections in the search for common ground.
Newsweek is committed to challenging conventional wisdom and finding connections in the search for common ground.