The Brooklyn Nets announced on Tuesday that former NBA champion Kyrie Irving will not play with the team until he gets vaccinated against COVID-19.
Nets General Manager Sean Marks said in a statement that Irving's vaccination status will prevent him from participating in games and practices.
"Given the evolving nature of the situation and after thorough deliberation, we have decided Kyrie Irving will not play or practice with the team until he is eligible to be a full participant," Marks said. "Kyrie has made a personal choice, and we respect his individual right to choose."
"Currently the choice restricts his ability to be a full-time member of the team, and we will not permit any member of our team to participate with part-time availability," the general manager continued. "It is imperative that we continue to build chemistry as a team and remain true to our long-established value of togetherness and sacrifice. Our championship goals for the season have not changed, and to achieve these goals each member of our organization must pull in the same direction."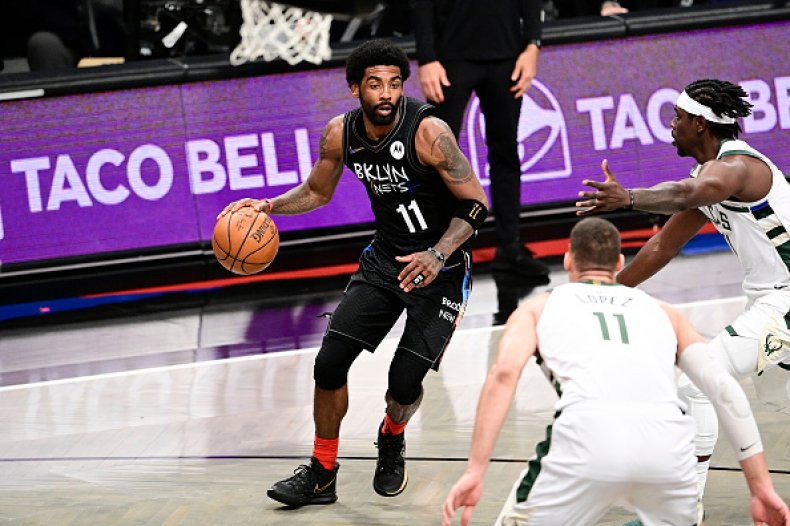 Irving's refusal to get a COVID-19 vaccine has prevented him from playing in home games because of New York City's vaccine mandate. Similar rules in Los Angeles and San Fransisco would also prevent Irving from playing with the team during away games hosted in those cities.
While he couldn't play games at Barclays Center, Irving was cleared to practice with the Nets last week after the team's practice facility, the HSS Training Center, was classified as a private office building, and not an indoor gym, and thus not subject to proof of vaccination requirements.
Both coaches and teammates have been publicly supportive of Irving in hopes that he would be able to join the team eventually, but his part-time role with the Nets seems to have strained the team's goals to win the season.
Irving, who played the most out of the Nets top three players last season, would only able to attend half the team's games due to his vaccination status.
"We look forward to having him," head coach Steve Nash said on Friday, one day before Irving attended an outdoor practice in Brooklyn.
"I'm envisioning Kyrie being a part of our team," Kevin Durant said last week. "Maybe I'm just naive, but that's just how I feel. But everybody here has that confidence in themselves and our group, that if we keep doing it, we can do something special."
Some have speculated that Irving's refusal to get vaccinated may lead the team to consider trading the All-Star, although the team has not commented on Irving's future with the Nets at this time.