Kyrsten Sinema Backs Senate Filibuster in Blow to Joe Biden Amid Voting Rights Showdown
Senator Kyrsten Sinema has delivered a major blow to President Joe Biden as she reiterated her support for the chamber's 60-vote filibuster—the biggest obstacle for Democrats in passing voting rights legislation.
In a floor speech on Thursday, the Arizona Democrat spoke of the disease of "bitter tribal partisanship" in American politics and stated her support for the John Lewis Voting Rights Act and the Freedom to Vote Act.
"These bills help treat the symptoms of the disease, but they do not fully address the disease itself," she said. "And while I continue to support these bills, I will not support separate actions that worsen the underlying disease of division infecting our country."
Sinema continued, "There's no need for me to restate my long-standing support for the 60-vote threshold to pass legislation. There's no need for me to restate its role protecting our country from wild reversals in federal policy."
Her statements are in direct contrast to Biden's view on the matter, as he implored Democrats this week to change the filibuster rules in order to pass the legislation with simple majority votes.
"It gives me no satisfaction in saying that, as an institutionalist, as a man who was honored to serve in the Senate," Biden said during a speech in Atlanta on Tuesday. "But as an institutionalist, I believe the threat to democracy is so grave that we must find a way to pass these voting rights bills, debate them, vote, let the majority prevail."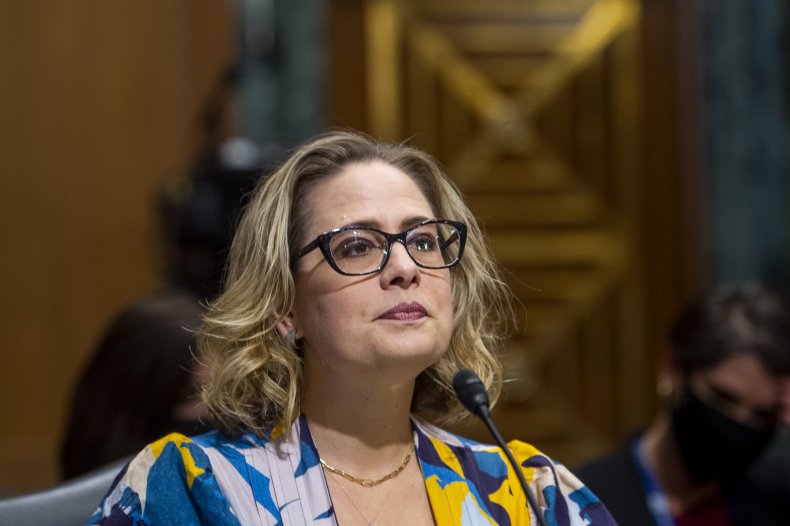 Biden is scheduled to meet with the Senate Democratic Caucus later this afternoon to continue making the case for approving the legislation, according to the White House.
The Democrat-controlled House of Representatives passed the set of voting rights bills Thursday morning.
"Today our nation faces the most dangerous assault on the vote since Jim Crow," House Speaker Nancy Pelosi said on the floor Thursday. She added, "Nothing less is at stake than our democracy."
Republicans have threatened retaliation if Democrats nuke the filibuster.
Senate Minority Leader Mitch McConnell said that changing the 60-vote requirement to advance legislation would "silence the voices of millions and millions of Americans" that voted for Republican members of Congress.
"We will make their voices heard in this chamber in ways that are more inconvenient for the majority and this White House than what anybody has seen in living memory," McConnell said in a floor speech earlier this week.
Sinema issued a similar warning to her colleagues Thursday, stating that politics are "cyclical" and the transferring of power back and forth means the filibuster has been "maddening" to both parties.
"We must commit to a long-term approach as serious as the problems we seek to solve," the senator said. "One that prioritizes listening and understanding. One that embraces making progress on shared priorities and finding common ground on issues where we hold differing and diverse views. This work requires all Americans everywhere."
Newsweek contacted the White House for a response to Sinema's statements.
Update 01/13/22, 1:00 p.m. ET: This story was updated with more information and background.