Kyrsten Sinema: Biden, Schumer 'Fully Aware' of Priorities for Reconciliation
Amid a battle over budget reconciliation, Senator Kyrsten Sinema's office said Thursday that President Joe Biden and Senate Majority Leader Chuck Schumer are "fully aware" of her priorities for the bill.
John LaBombard, the Arizona Democrat's communications director, said in a statement that Sinema made her opposition to the proposed $3.5 trillion price tag clear more than two months ago.
"In August, she shared detailed concerns and priorities, including dollar figures, directly with Senate Majority Leader Schumer and the White House," LaBombard said. "Claims that the Senator has not detailed her views to President Biden and Senator Schumer are false."
All eyes are on Sinema and West Virginia Senator Joe Manchin, as the Democrats work to pass the spending package—which includes major investments to combat climate change and expand the social safety net. Both moderate lawmakers have expressed concern over the price of the bill.
Manchin on Thursday floated a $1.5 trillion topline to reporters, stating if progressives in the party want a bigger reconciliation bill, then they have to "elect more liberals."
The party will need all 50 of their caucus members to support the legislation in order for it to pass via reconciliation, a process that allows them to bypass the Senate's 60-vote filibuster.
While Sinema hasn't publicly stated what she wants to see included or cut from the package, her office emphasized Thursday that the main negotiators know what she's thinking about the bill.
"Like our bipartisan infrastructure bill, the proposed budget reconciliation package reflects a proposal of President Biden's – and President Biden and his team, along with Senator Schumer and his team, are fully aware of Senator Sinema's priorities, concerns, and ideas," LaBombard said.
Sinema is continuing to "engage directly in good-faith discussions with both President Biden and Senator Schumer to find common ground," LaBombard added.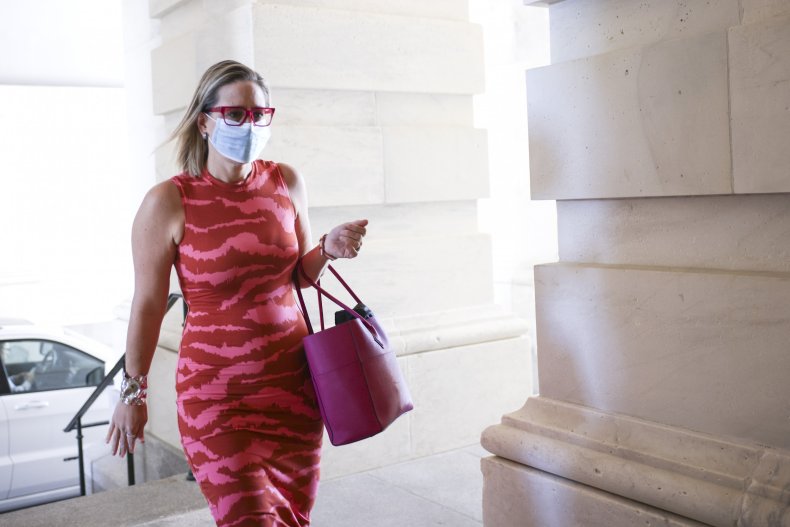 Sinema's opposition to the $3.5 trillion figure for the spending package and her defense of the filibuster has prompted Arizona activists to launch a PAC Thursday aimed at replacing her in 2024.
The Primary Sinema PAC will fund grassroots efforts in Arizona to mount a viable challenger against the Democrat. The group is not supporting a particular candidate but said it will "build the infrastructure and make the case that it's time for change."
"The people of Arizona voted for Joe Biden and the Biden agenda. Senator Sinema is out of step with Arizonans—and not just Democrats," the PAC's website read. "She is opposing popular policies supported by broad, bipartisan majorities of Arizonans, policies that would benefit her constituents."
Updated 2:40 p.m. ET, with additional information on budget reconciliation negotiations, as well as information on the Primary Sinema PAC.