Kyrsten Sinema Could Face a Democratic Challenger After Arizona Group Launches New PAC
Arizona activists are already working to replace Senator Kyrsten Sinema when she's up for reelection in 2024.
The Primary Sinema PAC launched Thursday will fund grass-roots efforts in Arizona to mount a viable challenger against the Democrat. The money will also go to organizations working to hold Sinema "accountable."
"It's clear that Sen. Sinema is not listening to the people of Arizona," Alex Gomez and Tomás Robles, co-executive directors of Living United for Change in Arizona, said in a statement.
Gomez and Tomás said their group "fought tirelessly" to elect Sinema in 2018 and President Joe Biden in 2020 to address such issues as climate change and immigration reform.
"Sinema has proven time and time again that she doesn't share these values, so it's time to organize and replace her with someone who does," they said.
Sinema is at the center of a battle over Biden's legislative agenda as Democrats work to pass a multitrillion-dollar spending package to expand the social safety net and address climate change. Sinema and West Virginia Senator Joe Manchin have pushed back on the bill's price tag, saying the proposed $3.5 trillion is too high.
Democrats need all 50 of their caucus members to support the bill for it to pass via reconciliation, a process that allows them to bypass the Senate's 60-vote filibuster.
White House press secretary Jen Psaki told reporters Wednesday the administration believes Sinema supports passing a reconciliation bill with Democratic priorities. But the Arizona lawmaker hasn't publicly stated what she wants to see included or cut from the package.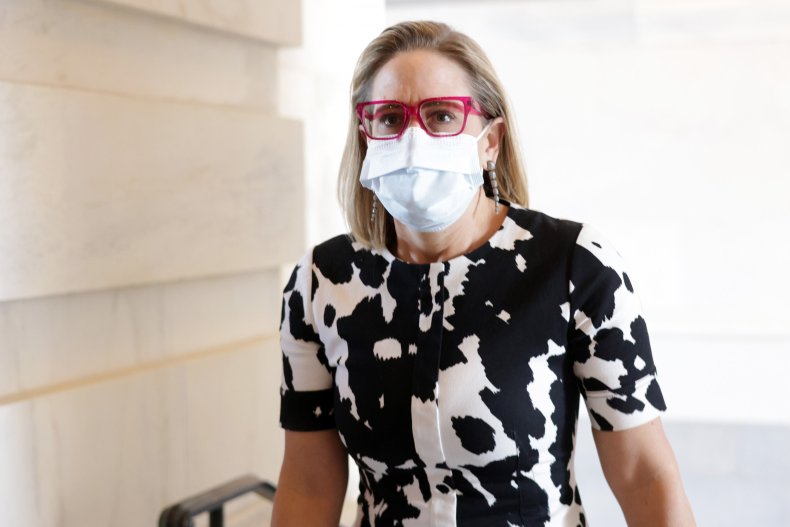 Luis Avila, a longtime Arizona organizer, said there's still time for Sinema to "change course."
"But if she does not, there will be consequences for her betrayal of the people who elected her. We're counting on her to represent our best interests, including President Biden's Build Back Better priorities and democracy reform," Avila said in a statement.
The Primary Sinema PAC will not support a particular candidate, saying that is an issue that voters should decide. What the group will do is "build the infrastructure and make the case that it's time for change."
"The people of Arizona voted for Joe Biden and the Biden agenda. Senator Sinema is out of step with Arizonans—and not just Democrats," the PAC's website reads. "She is opposing popular policies supported by broad, bipartisan majorities of Arizonans, policies that would benefit her constituents."
Last week, the Arizona state Democratic Party passed a resolution criticizing Sinema over her opposition to eliminating the filibuster and for her stance on the $3.5 trillion reconciliation bill.
The state party also warned Sinema that it will "closely watch" her upcoming votes, threatening to censure her and withhold its support when she is up for reelection.
Newsweek reached out to Sinema's office for comment on the PAC but didn't receive a response before publication.