Kyrsten Sinema Dining With Kevin McCarthy Sparks Outrage: 'The Worst'
A photograph of Senator Kyrsten Sinema having dinner with House Speaker Kevin McCarthy on Wednesday triggered a visceral response online, with one progressive campaigner branding it "the worst."
Sinema, the senior senator from Arizona, caused a sensation in December 2022 when she quit the Democratic Party to sit as an independent.
On Wednesday evening, Jake Sherman, founder of Punchbowl News which covers Congress, tweeted: "MCCARTHY is dining tonight with Sen. Kyrsten Sinema."
He later added a photograph of the pair sitting at a table with drinks, apparently deep in conversation.
The news sparked an immediate reaction on social media, including from Adam Green, co-founder of the left-wing Progressive Change Campaign Committee.
He retweeted Sherman's photo, adding: "The phrase 'the worst' can be over used. Not here. THE WORST."
Responding to the original photograph, another Twitter user posted: "That can only be bad for regular Americans."
A third added: "Planning what works for them, not the country, no doubt."
However, the response wasn't all critical, with Twitter user Frankie Newton writing: "That's fantastic news, bipartisan leadership hopefully getting good stuff done for Americans, as it should be!"
Newsweek has contacted both Sinema and McCarthy to ask what was discussed during the dinner, and whether they have any plans to work together politically.
Before leaving the Democrats, Sinema angered her colleagues by voting against a number of progressive proposals, including a plan to raise the minimum wage to $15 an hour, which she memorably rejected with a thumbs down gesture.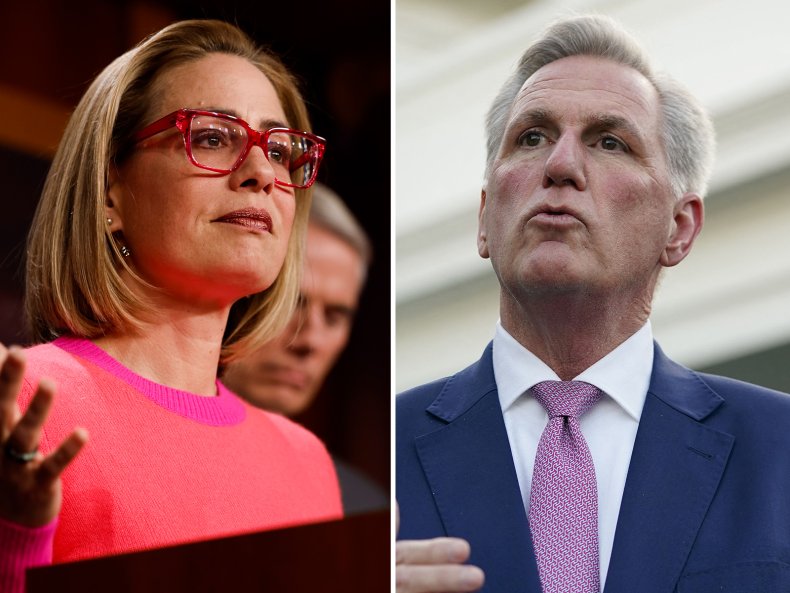 Sinema was often joined in her opposition to left-wing proposals by fellow centrist Democrat Joe Manchin, though after her defection, the West Virginia senator insisted he had "no intentions" of leaving the party as well.
McCarthy was finally elected House speaker on January 7, following 15 votes and four days of Congressional turmoil, after making concessions to hard-right Republicans.
This was the first speaker's election in more than a century in which a candidate didn't win on the first ballot.
According to Politico, Blake Masters, who in November was beaten by Democrat Mark Kelly for the other Arizona Senate seat, is considering running again for Sinema's seat in 2024.
Republicans in Arizona performed poorly in November's midterm elections, with Kari Lake losing the gubernatorial race to Democrat Katie Hobbs by around 17,000 votes.
Lake, a supporter of Donald Trump's discredited claim that the 2020 presidential election was fraudulent, has since insisted the election was rigged against her. This claim was dismissed in December by a Maricopa County judge, though Lake immediately announced her intention to appeal.