Kyrsten Sinema's 'F*** Off' Ring Maker To Donate Sale Profits to Pro-Minimum Wage Group
A San Francisco-based craft company that makes the "F*** Off" ring worn by Senator Kyrsten Sinema has promised to donate all proceeds from the jewelry to campaigners fighting for an increase in the federal minimum wage.
Posting on social media, Yellow Owl Workshop said on Tuesday that proceeds from the "F*** Off" ring would be donated to the National Employment Law Project until the end of this month.
The company also said that it appreciated the attention Sen. Sinema (D-AZ) brought to the ring. She posted a viral picture of her wearing the ring at the weekend, a little over a month after she voted against a hike in the federal minimum wage.
At the time of writing, the "F*** Off" ring is listed on the Yellow Owl Workshop website for $26.50. It has 10 reviews so far.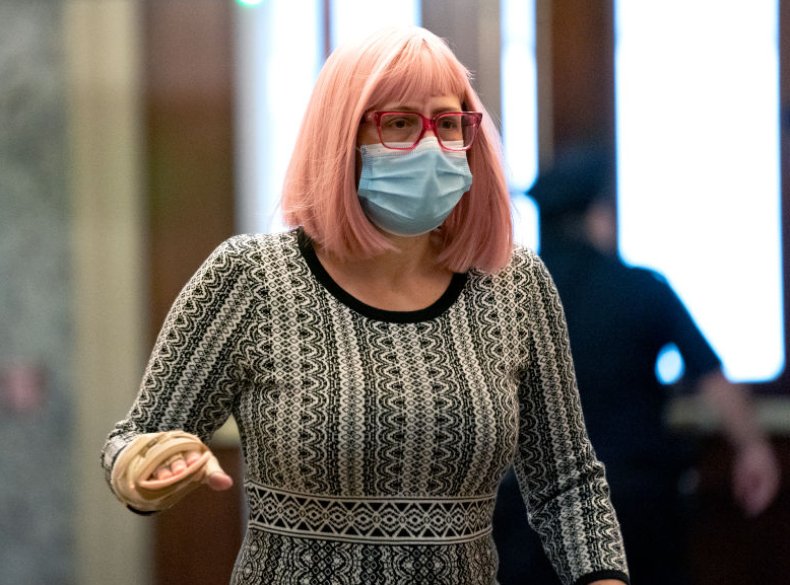 In a statement on Instagram, Yellow Owl Workshop: "We appreciate the attention brought to our work by the recent events with Kyrsten Sinema and we want to put our money towards an organization that is fighting to protect workers and build systemic change.
The California craft firm also urged Arizona residents to contact the office of Senator Sinema directly, and posted the postal address of her Washington, D.C. office.
Newsweek has contacted the Yellow Owl Workshop for further comment. Sen. Sinema's office has also been contacted.
Progressives were quick to criticize the Arizona Democrat over her post at the weekend, with one calling it a "gut punch" to those in the state who fought to get her elected to the upper chamber.
"Sen. Sinema thinks the f*** off ring is a witty way to send a message to the people upset at her actions," the Arizona Democratic Party's education coordinator Brianna Westbrook tweeted. "The reality, the f*** off ring is a gut punch to the people that worked their ass off to elect her. Shameful."
Joan Greene, an Arizona Democrat who ran for the House of Representatives last year, called on Sinema to stop "showing contempt" for local voters and instead "hold a town hall & listen to the people."
The Democratic senator was criticized for voting down the $15 minimum wage measure in President Joe Biden's $1.9 trillion COVID-19 relief bill with a thumbs-down gesture in March. The Senate Parliamentarian ruled at the time that it should not be included in a budget reconciliation bill.
In a statement explaining her vote, Sinema said there needed to be an "open debate and amendment process on raising the minimum wage, separate from the COVID-focused reconciliation bill."