Kyrsten Sinema Issues Fiery Response to Protesters Who Followed Her to Bathroom
Senator Kyrsten Sinema is firing back at protesters' "unacceptable behavior" after they followed her into a bathroom at Arizona State University over the weekend.
Videos posted to social media Sunday showed a group of people trail the Democratic lawmaker through a campus hallway. The group continued to berate Sinema as she entered a bathroom stall.
"Yesterday's behavior was not legitimate protest," Sinema said in a statement on Monday. "It is unacceptable for activist organizations to instruct their members to jeopardize themselves by engaging in unlawful activities such as gaining entry to closed university buildings, disrupting learning environments, and filming students in a restroom."
"In the 19 years I have been teaching at ASU, I have been committed to creating a safe and intellectually challenging environment for my students," she continued. "Yesterday, that environment was breached. My students were unfairly and unlawfully victimized. This is wholly inappropriate."
All eyes have been on Sinema, as well as West Virginia Democrat Joe Manchin, amid tense budget negotiations on Capitol Hill.
Sinema has earned the ire of Arizona activists for opposing the original $3.5 trillion price tag of the reconciliation bill, which would implement much of President Joe Biden's "Build Back Better" agenda to expand the social safety net and combat climate change.
Sinema hasn't publicly said what she wants to see included and cut from the spending package, but her office emphasized last week that Biden and Senate Majority Leader Chuck Schumer are "fully aware" of her priorities and concerns.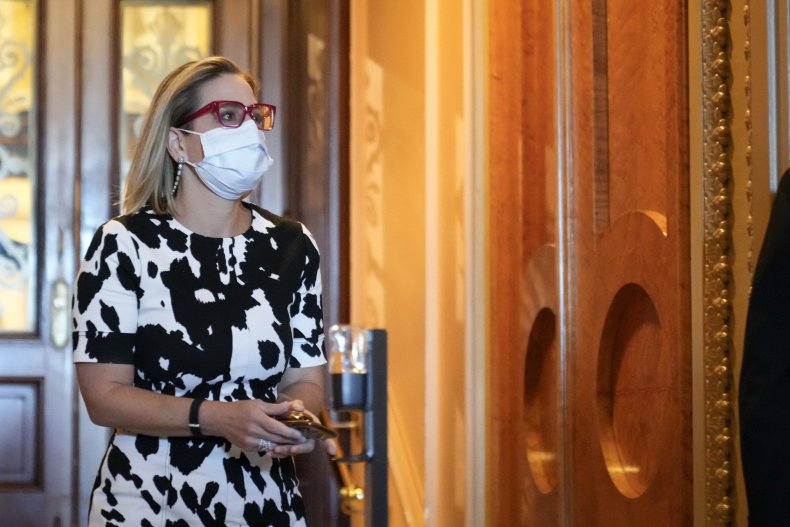 At an event on Sunday, Schumer said the timeline has been expanded to the end of October to pass the reconciliation bill and bipartisan infrastructure legislation.
Biden reportedly pitched lawmakers Friday the idea of lowering the reconciliation bill from $3.5 trillion to around $2 trillion.
When asked about the protests against Sinema and Manchin—kayakers have been rallying outside Manchin's houseboat for days demanding he support the budget reconciliation bill—Biden said they're "part of the process."
"I don't think they're appropriate tactics but it happens to everybody," Biden said.
In her statement, Sinema said it's the "duty" of elected leaders to "avoid fostering an environment in which honestly-held policy disagreements serve as the basis for vitriol."
"In Arizona, we love the First Amendment," Sinema said. "We know it is vital to our democracy that constituents can freely petition, protest, or criticize my policy positions and decisions. The activist group that engaged in yesterday's behavior is one that both my team and I have met with several times since I was elected to the Senate, and I will continue engaging with Arizonans with diverse viewpoints to help inform my work for Arizona."