A clip of Democratic Senator Kyrsten Sinema talking with Mitch McConnell and Tom Cotton, two Republican rivals, on the Senate floor has gone viral on social media.
Sinema, who is on the right of the Democratic Party, could get to decide whether the Inflation Reduction Act, the latest budget reconciliation deal, is able to pass Congress.
The Inflation Reduction Act was hammered out in secret between Majority Leader Chuck Schumer and Senator Joe Manchin, a centrist Democrat who torpedoed some of his party's previous spending plans.
If passed it will unlock $369 billion to fight climate change, introduce a new minimum 15 percent tax on corporate profits reported to shareholders by large companies, and give Medicare more freedom to negotiate the price of certain medications.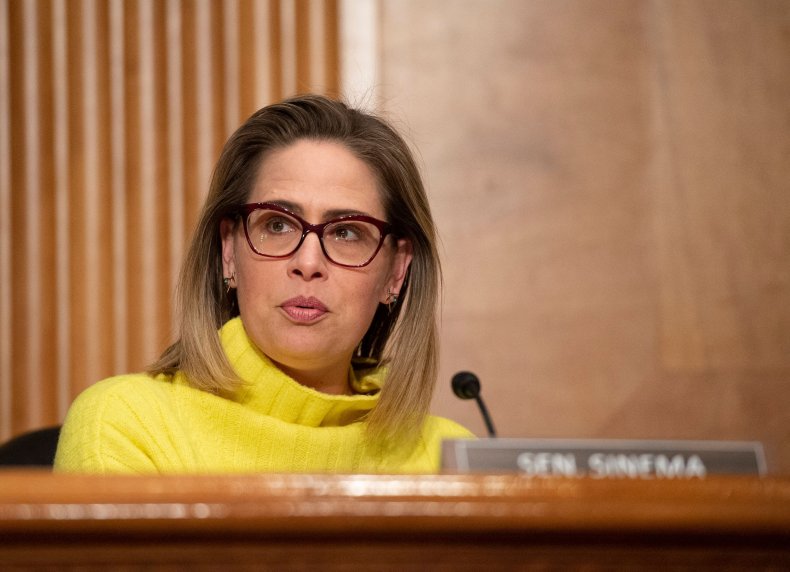 Senate Democrats say the package will cut the deficit by at least $300 billion over the next decade and cut inflation, though this has been roundly rejected by conservatives.
To pass the Senate it will almost certainly need the support of all 50 Democratic aligned Senators, as the 50 Republican members are expected to oppose.
This means getting the support of Sinema, who has refused to say whether she will back the bill. As a result, a video of Sinema talking with Minority leader McConnell and Cotton swiftly went viral on Twitter, being viewed more than 670,000 times.
The 21-second clip was posted by a user called "Acyn," who describes themselves as an "internet hooligan," and achieved over 500 retweets.
Speaking on Tuesday, Schumer expressed confidence Sinema will end up voting for the bill. He commented: "We're in touch with Senator Sinema, we're in touch with all of the members, and we're hopeful, I'm very hopeful, we're all going to stay united and pass this bill."
However Republican Kevin Cramer urged Schumer to reject the legislation. He said: "I always have faith in her. I don't know how it will come out.
"I have great faith she's going to do what she feels is right. She's more convicted than she is transactional."
Fellow Republican Senator John Barrasso added Sinema has a "spine of steel" and is "not going to be easily twisted." McConnell argued Manchin, who has previously angered progressives by blocking several bills, had "made a terrible deal."
The Minority Leader commented: "I would say to our friend Joe Manchin, he made a terrible deal, a terrible deal. How he can defend this from a West Virginia point of view, or think of it as a centrist kind of agreement, is astonishing."
Manchin has spoken with Sinema in a bid to get her support for the bill.
Asked by reporters how the conversation went he replied: "We had a nice time. We had a nice time. Next?"
Progressive Senator Elizabeth Warren refused to discuss whether Sinema could "tank" the deal. Addressing reporters, she said: "I'm not talking about private conversations. It will take 50 votes to get it through."
Senator Sinema has been contacted for comment.