Kyrsten Sinema, Mitt Romney Dress as 'Ted Lasso' Characters on Capitol Hill
Senators Mitt Romney, a Utah Republican, and Kyrsten Sinema, an Arizona Democrat, showed off their playful sides by getting into the spirit of Halloween. Romney dressed up as the titular character from the hit show Ted Lasso, while Sinema took on the role of Lasso's boss Rebecca.
Romney shared some of the light-hearted moments of him in Lasso mode on Twitter Thursday, which included a couple of cameos from Sinema.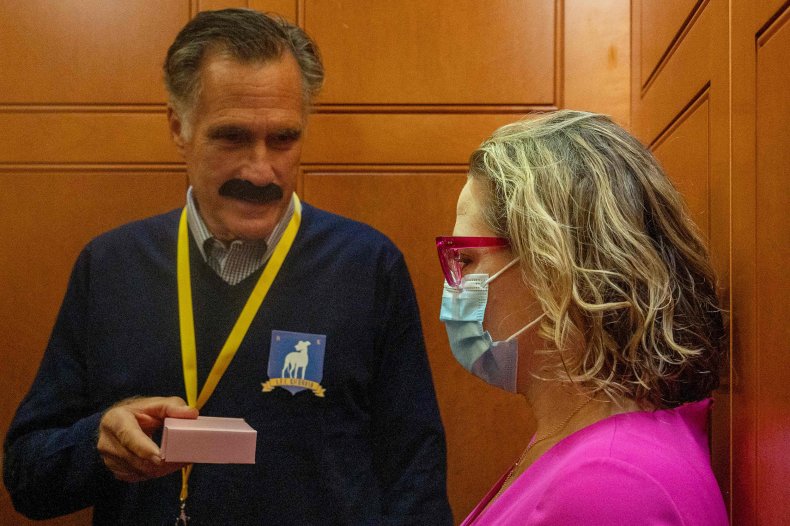 Over several tweets, Romney can be seen with the trademark Lasso mustache as well as an AFC Richmond pullover sweater and a coach's whistle. For those unfamiliar with the hit Apple TV show, Jason Sudeikis stars as Lasso, who is a good-hearted American from the Midwest who takes on the very unfamiliar job of coaching the AFC Richmond soccer team in the U.K.
Romney captioned one tweet with "Biscuits with the boss." On the show, Lasso regularly bakes biscuits—better known as cookies in the U.S.—to give to Rebecca, the owner of the soccer team.
Sinema sits in as Rebecca Welton, who is played by Hannah Waddingham. The senator had very little to do in the way of a costume, though, as Rebecca typically wears stylish skirt suits.
In another picture of the Utah Republican with Arizona Democrat, Romney wrote the following caption: "She's one tough cookie."
Romney indicated he was "[w]arming up for Halloween Weekend with the grandkids." He also quoted Lasso, saying "Your body is like day-old rice. If it ain't warmed up properly, something real bad could happen."
That message was attached to a gif of Romney catching a soccer ball in the Capitol hallway.
In another tweet, Romney touches a sign with "Believe" written on it, something Lasso also does for inspiration.
Perhaps Romney's costume has more of a backstory than just him being a fan of the show. During his 10-year stint on Saturday Night Live, Sudeikis used to play Romney in sketches.
In the video below, Sudeikis is seen as Romney after losing the 2012 presidential election to then-President Barack Obama.
Other members of Congress have also gotten in on some Halloween fun. On Wednesday, Senator Tom Tillis, a North Carolina Republican, hosted his annual dog-themed parade. During the event, costumed-adorned canines posed for photos at the Hart Senate Office Building. Tillis first hosted the parade in 2017, but he canceled the celebration in 2020 due to COVID-19.
Sinema has been in the news in recent weeks mostly for her involvement in negotiating a spending package with Democrats in Congress. Along with West Virginia Senator Joe Manchin, Sinema is seen as a centrist—some say conservative—Democrat who has opposed some initiatives more progressive members of her party favor for the plan.
On Thursday, however, Sinema put the heavy debating aside for long enough to at least retweet one of Romney's Halloween posts of them together.