Kyrsten Sinema Slammed for Praising 'Commonalities' with Mitch McConnell
Senator Kyrsten Sinema, a moderate Democrat from Arizona, has been blasted on social media after praising her "commonalities" with Republican Senate Minority Leader Mitch McConnell.
Sinema appeared alongside her Republican colleague on Monday during an event at the University of Louisville's McConnell Center. The Kentucky senator described Sinema, who has earned a reputation as a frequent roadblock to the Democratic agenda in an evenly-split Senate, as the "most effective first-term senator" he has ever witnessed. Sinema then spoke fondly of their "friendship" and noted that they share similar "values."
"Despite our apparent differences, Senator McConnell and I have forged a friendship," Sinema said. "One that is rooted in our commonalities, including our pragmatic approach to legislating [and] our respect for the Senate as an institution."
"In today's partisan Washington, it might shock some that a Democratic senator would consider the Republican leader of the Senate her friend," she added. "But back home in Arizona, we don't view life through a partisan lens... while we may not agree on every issue, we do share the same values."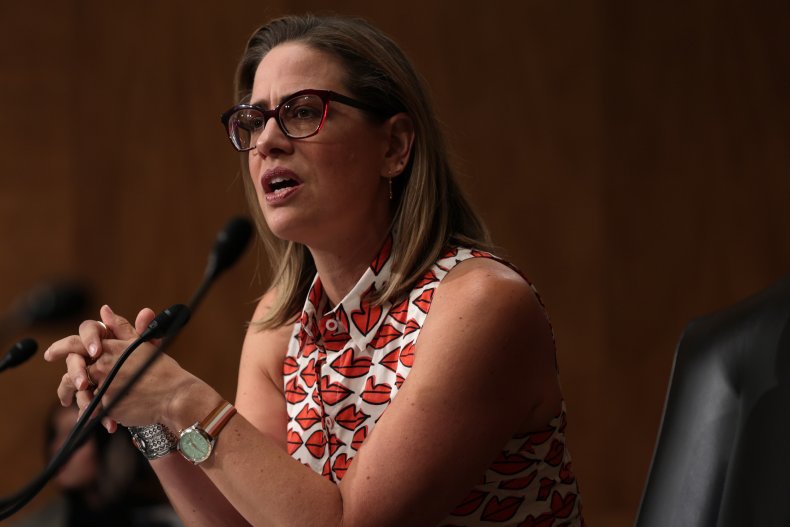 Sinema's speech was met with a wave of furious Twitter reactions from Democrats and others on the left. Some suggested that Sinema's remarks could help get her defeated in a Democratic primary when she is up for reelection in 2024.
"Sinema is what you call a 'useful idiot,'" activist and author Amy Siskind tweeted. 'NEVER when McConnell was in majority did he try for bipartisan. He gleefully jammed through, including stacking the Supreme Court. Her ego - and pocket book from lobbyists - are so inflated she has no idea how silly she looks."
"Sinema thinks McConnell is helping her cut an ad for the general when he is really helping her opponent cut one for the primary," tweeted Pod Save America co-host Dan Pfeiffer.
"Kyrsten Sinema's love fest with Mitch McConnell is Exhibit A for why we need to increase the Senate majority," attorney Tristan Snell tweeted.
"I thought I was sick of Kyrsten Sinema until I saw her at an event with Mitch McConnell saying how much she had in common with him," tweeted influencer Majid Padellan, who is also known as "Brooklyn Dad Defiant" online. "Ewww."
"Krysten Sinema is the worst kind of Democrat... the Republican kind," tweeted pastor John Pavlovitz.
"Fact: Kirsten Sinema has had nothing to do with Arizona Democrats since she took office," Democratic activist Judy Stahl tweeted. "She abandoned the people who elected her. She will be primaried in 2024."
Democratic Representative Ruben Gallego of Arizona, often considered a likely candidate to launch a primary challenge against Sinema in 2024, also weighed in on the senator's appearance with McConnell on Monday in a series of tweets.
Gallego criticized Sinema for not being "out there helping our candidates" and suggested that she would instead "actually prefer the Dems lose control of the Senate and House" in this year's midterms.
"Now that I think of it," he added in a subsequent tweet. "I have been traveling the state and country. Donating, raising funds and encouraging people to come out and vote and I have seen you nowhere @SenatorSinema."
"I cannot wait for @RubenGallegoto primary Sinema," tweeted Tim Fullerton, an ex-staffer for former President Barack Obama.
"Sinema is probably going to lose a primary in 2024 and I am not sure it will be all that close," writer Ross Barkan tweeted.
Newsweek reached out to Sinema's office for comment.