Kyrsten Sinema Suffers a Sarah Palin–Style Skewering on 'Saturday Night Live'
A Saturday Night Live sketch razzing Arizona Senator Kyrsten Sinema amid the ongoing debate about infrastructure has drawn comparisons to Tina Fey's famed Sarah Palin impersonation.
The October 2 episode's cold open featured James Austin Johnson's Joe Biden flanked by depictions of progressive and centrist Democrats who have sparred over infrastructure plans in recent weeks—including Sinema, who was played by Cecily Strong.
Moderate Democrats pushed for a vote last week on the $1.2 trillion "hard" infrastructure bill which includes funding for roads and bridges, high-speed internet, rail and transit, drinking water upgrades, and other priorities meant to shore up the nation's crumbling infrastructure.
Progressives said they would not vote in support of the standalone bill if it were not attached to a larger $3.5 trillion bill that includes funds to tackle climate change, expand Medicare and offer free two-year community college.
However, some moderate Democrats pledged to vote against the budget reconciliation needed to pass the larger bill unless the House first voted for the $1.2 trillion bill. The standoff led to a delay in the vote.
Sinema is one of the centrists who have raised concerns about the price tag of the larger bill.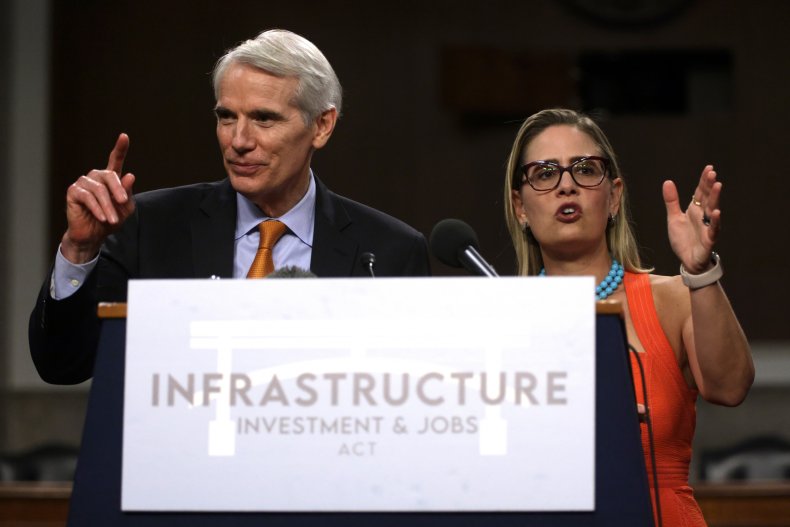 The sketch centered upon the lawmakers debating what should be included in the bill. It featured Aidy Bryant as Senator Joe Manchin, Ego Nwodim as Representative Ilhan Omar and Melissa Villaseñor as Representative Alexandria Ocasio-Cortez.
"What do I want from this bill? I'll never tell because I didn't come to Congress to make friends," Strong's Sinema said. "And so far, mission accomplished."
When speaking about paid family leave, Johnson's Biden proposes 12 paid weeks. That number is quickly cut to six unpaid nights by Bryant's Manchin and Strong's Sinema.
Johnson's Biden later asks about roads, to which Sinema responds, "I want no roads" because of "chaos."
"As a wine-drinking bisexual triathlete, I know what the average American wants," Strong's Sinema said. "They want to be put on hold when they call 911. They want bridges that just stop and cars fall down. They want water so thick you can eat it with a fork. And I will fight for that no matter what."
She then added, "Unless my foot hurts. Then I'll go back to Arizona."
Strong's depiction of Sinema was met with praise from Twitter users, some of whom drew comparisons to Tina Fey's acclaimed sketches in which she played former Alaska Governor and vice-presidential candidate Sarah Palin.
"Strong/Sinema = Fey/Palin," wrote @PaterHumor.
"Cecily Strong did a brilliant impersonation & spoof of a flighty, flippant Kyrsten Sinema on SNL's new season opener," wrote @1813Doncarlo.
"Cecily Strong as Senator Sinema is perfection!" wrote @cmhconsulting.
On Saturday, Sinema criticized progressives over the delayed vote on the $1.2 trillion infrastructure plan, which was originally slated for Thursday—while progressives blamed the moderate wing of the party for the delay.
"The failure of the U.S. House to hold a vote on the Infrastructure Investment and Jobs Act is inexcusable and deeply disappointing for communities across our country," she said in a statement. "Denying Americans millions of good-paying jobs, safer roads, cleaner water, more reliable electricity, and better broadband, only hurts everyday families."
Biden on Saturday offered a veiled criticism of Sinema and Manchin, saying, "We can bring the moderates and progressives together very easily if we had two more votes. Two. Two people."