Kyrsten Sinema, Under Siege From Left, Faces Protests, Primary Challenge, SNL Scorn
Kyrsten Sinema seems to have fewer friendly faces among her Democratic peers these days. The Arizona senator has taken flack from progressives, a primary challenger for her 2024 re-election bid is already in the works and she's getting lampooned on Saturday Night Live.
Now she's got protesters showing up at her fundraising events, and she's not even halfway through her first term as a U.S. Senator—the first woman from her state to win that office.
Why is Sinema facing so much criticism from her own party? It's largely because she recently opposed the large spending amount of President Biden's proposed Build Back Better agenda. Progressive Democrats want more than just a $1.2 trillion infrastructure bill. They want an additional $3.5 trillion reconciliation package that they dub "human infrastructure."
A bill was set for a vote last Thursday, but Speaker of the House Nancy Pelosi delayed the vote until she knows Democrats will have enough votes for it to pass.
Sinema blasted progressive Democrats for delaying a vote, calling it an "ineffective stunt" while also calling the delay "inexcusable" and "deeply disappointing."
Bernie Sanders, a progressive senator from Vermont, sniped back Sunday morning during an interview with ABC's This Week.
"I think Senator Sinema is wrong. I think from day one...it has been clear—president of the United States has said, Speaker of the House Pelosi has made it clear, Majority Leader in the Senate [Chuck] Schumer has made it clear—both of these bills are going forward in tandem," Sanders said.
Sinema was back in Arizona this weekend for a ritzy fundraiser at a Phoenix venue. There were protesters outside the Royal Palms Resort who demanded Sinema vote to approve the spending bills.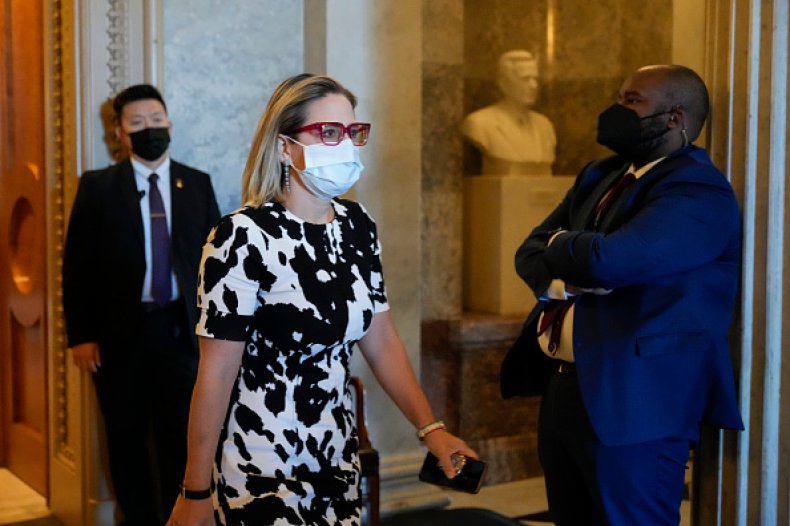 Last Tuesday afternoon, two days before the scheduled the infrastructure vote, Sinema was holding a high-priced fundraiser that costs her supporters anywhere from $1,000 to $5,800 to spend 45 minutes with her. The supporters were lobbyist groups who oppose multi-trillion dollar spending bills.
Sinema has vocally opposed the spending bills, and it has prompted the formation of a political action committee (PAC) in Arizona to find a strong opponent to face her in the 2024 primary. The Primary Sinema PAC was formed last Thursday, and they hope to use a grass-roots campaign to not just find a good candidate, but also use money to support organizations that hold the senator "accountable."
Alex Gomez and Tomás Robles, who are co-executive directors of Living United for Change in Arizona, worked hard to get Sinema elected in 2018. They thought she was the right candidate to work for the state on issues like climate change and immigration. Last week, they issued a statement that blasted Sinema.
"It's clear that Sen. Sinema is not listening to the people of Arizona," they wrote. "Sinema has proven time and time again that she doesn't share these values, so it's time to organize and replace her with someone who does."
Sinema and West Virginia Democratic Sen. Joe Manchin have opposed any multi-trillion dollar spending bills. The senate will need all 50 Democrats to pass any big spending bills, which makes Sinema and Manchin stick out among their colleagues. Republicans have said they will not for the bill.
Then there's Saturday Night Live, which took a left turn to make fun of a Democratic senator. The skit is somewhat Sarah Palin-like, which might hurt the senator in her re-election bid and in the eyes of Arizonans. For those who may or may not remember, SNL skits about Palin became popular in America, but unpopular for Palin, who was the vice presidential nominee in the 2008 election at the time.
SNL actress Cecily Strong played the role of Sinema during the opening skit Saturday night. It opened with an actor playing President Biden to talk about his "bad summer" and then talk about the spending bill. He then introduces "Sinema."
"What do I want from this bill," Strong asked while smirking and playing the role of Sinema. "I'll never tell. Cause I didn't come to Congress to make friends. And so far, mission accomplished."
The skit continued with actresses playing the roles of Manchin and progressive Reps. Ilhan Omar and Alexandria Ocasio-Cortez, and Biden's character tries leveling a compromise on a spending bill.
When Biden says "lowering the price of prescription drugs," Sinema's actress defiantly says, "no!"
When Biden says "raising taxes on billionaires," Sinema's character holds a thumbs-down while giving a "thwwpppp."
"Just tell us Kyrsten, what do you like.? What is good for you?"
Strong gave a wide array of answers in her Sinema role.
"Yellow starbursts, the film 'Polar Express' and when someone eats fish on an airplane," Strong quipped.
The Ocasio-Cortez character asked if Democrats could agree on anything. Strong gave another strong comeback for her Sinema role.
"Look, as a wine-drinking, bi-sexual triathlete, I know what the average American wants," Strong said. "They want to be put on hold when they call 9-1-1. They want bridges that just stop and cars fall down. They want water so thick you can eat it with a fork.
"And I will fight for that no matter what. Unless my foot hurts, then I've got to go back to Arizona."
That skit ends with actors playing New York Gov. Andrew Cuomo and Senate Majority Leader Chuck Schumer, also from New York.
Sinema, who was made fun of the most in that skit, finds herself with more enemies than friends right now in her office. She's got the far left against her, she's got protesters in her state, a likely primary challenger and now a popular show using her actions at their expense—and profit.
Newsweek reached out to Kyrsten Sinema's office for comment.