Kyrsten Sinema's Disapproval Rating Doubles Among Democrats Since Beginning of 2021
U.S. Senior Senator Kyrsten Sinema has seen a steep decline in disapproval ratings from fellow Democrats and registered voters in the state of Arizona.
Democratic voters, who are at 46 percent, are now 21 percent less likely to approve Sinema's job performance, compared to the start of 2021, according to Morning Consult Political Intelligence Tracking. Currently, 14 percent of Arizona Democrats "strongly" approve of Sinema in comparison to 28 percent who voted in a similar fashion during the months of January 1 to March 31.
Due to Sinema's approval rating falling under 50 percent, these percentages could potentially jeopardize Sinema if she were to run for re-election in 2024 amid her Democratic cohorts.
The report also showed that Sinema's approval rating dropped from 48 percent to 42 percent in accordance with registered voters in Arizona during the first and third quarters of 2021. Those who disapprove of Sinema increased from 35 percent to 42 percent during this time period including Republicans who disapprove of Sinema at a rate of 45 percent.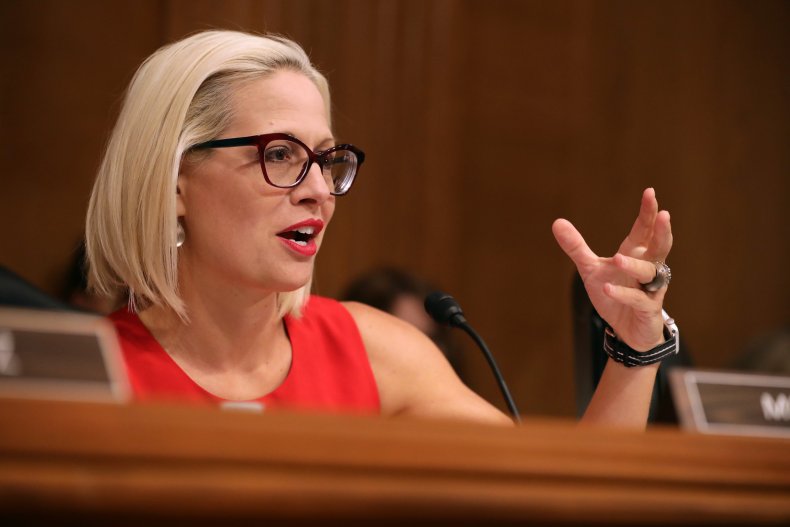 Sinema has been compared to the late U.S. Arizona senator John McCain or her wanting to break from the Democratic party and allegedly holding up the progress of President Joe Biden's $3.5 trillion Build Back Better agenda.
U.S. Senator Joe Manchin, a Democrat who represents West Virginia and is within the same political standing as Sinema, is also opposed to Biden's social spending agenda. Manchin has maintained support among West Virginia voters even though his overall job performance is in contrast to Sinema's.
On October 6, a member of the all-women-led grassroots organization Code Pink questioned Sinema about her opposition regarding Biden's spending agenda.
"Senator Sinema, would you please tell the majority of Americans who support Build Back Better why you won't vote for it? Who are you going to leave behind? Seniors who need health care? Folks who need housing? The climate crisis? Who are you going to leave behind, senator?" a woman asked as Sinema was leaving the Reagan National Airport in Washington, D.C.
Sinema didn't answer any of the woman's questions which sparked outrage on Twitter.
Sinema was also approached on the airplane by a Consideration of Deferred Action for Childhood Arrivals (DACA) recipient named Karina regarding her fighting for immigrants within her home state. Finally, Sinema ended up being followed into an Arizona bathroom by activists who demanded that she support a "pathway to citizenship" while she was in a stall.
On October 4, Biden addressed the issue of Sinema and Manchin being followed by activists. Biden revealed that the occurrences could be arising due to neither senator having Secret Service protection.
"I don't think they're appropriate tactics, but it happens to everybody," said Biden to media representatives. "The only people it doesn't happen to are the people who have Secret Service standing around them," Biden added. "So, it's part of the process
Newsweek has reached out to Sinema for further comments.