L.A. Businesses Could Be Fined Up to $5K if They Don't Enforce City's COVID Vaccine Mandate
Los Angeles' new vaccine mandate for businesses has taken effect Monday, but fines will not be enforced until a later date.
Last month, the L.A. city council voted 11-2 for an order requiring people 12 and older to receive both shots and show proof of vaccination before entering indoor public and commercial spaces.
To give businesses time to adjust, city officials said they will start to impose the mandate on November 29. However, after the first offense warning later warnings could earn fines up to $5,000.
L.A. Mayor Eric Garcetti said the mandate will make businesses safer for employees and customers.
Yet business trade groups are responding with concern since Los Angeles County's vaccine rules are less strict.
"There's a tremendous lack of clarity," said Sarah Wiltfong, senior policy manager at the Los Angeles County Business Federation.
Another concern is the city's reactions to the new operation. Harassment of workers who are tasked with verifying vaccination is the top concern of the business federation's members, Wiltfong said.
"This puts employees in a potential position of conflict when they're not necessarily trained to handle situations like that," she said.
For more reporting from the Associated Press, see below: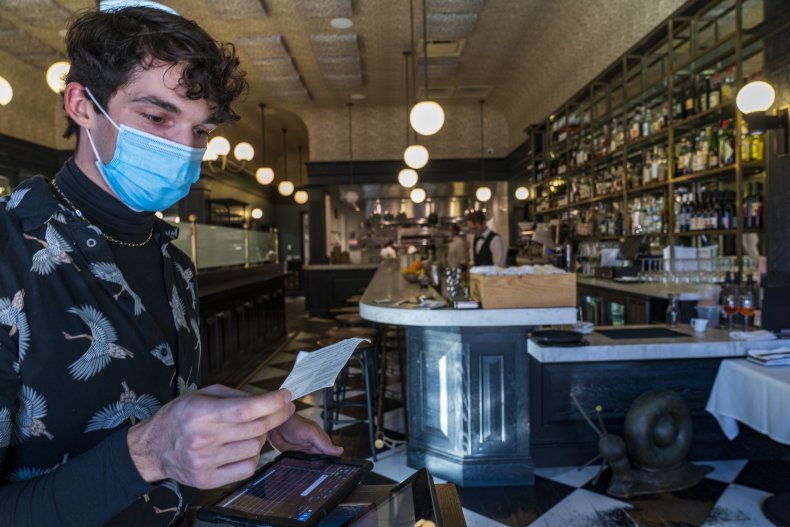 Los Angeles is among a growing number of cities across the U.S., including San Francisco and New York City, requiring people to show proof of vaccination to enter various types of businesses and venues. But rules in the nation's second-most-populous city, called SafePassLA, apply to more types of businesses and other indoor locations including museums and convention centers.
Negative coronavirus tests within 72 hours of entry to those establishments would be required for people with religious or medical exemptions for vaccinations. Customers without proof can still use outdoor facilities and can briefly enter a business to use a restroom or pick up a food order.
They are being implemented as new cases have started inching up following a sharp decline from an August peak driven by the Delta variant.
This was the time of year in 2020 when the worst spike of the pandemic was just beginning in California, which by January saw an average of 500 people die every day. Los Angeles became the state's epicenter and its hospitals were so overloaded with patients that ambulances idled outside with people struggling to breathe, waiting for beds to open.
So many people died that morgues reached capacity and refrigerated trucks were brought in to handle the overflow. That stark scene played out as coronavirus vaccines arrived and California and Los Angeles moved aggressively to inoculate people.
Among L.A. county's roughly 10 million people, 80 percent of eligible residents now have received at least one COVID-19 vaccine dose and 71 percent of those eligible are fully vaccinated, according to public health officials.