The Los Angeles City Council has voted unanimously in favor of requiring proof of COVID-19 vaccination to enter most of the city's indoor spaces.
Los Angeles City Attorney Mike Feuer will be drafting an ordinance mandating that residents and visitors have received at least one dose of vaccine before entering restaurants, bars, retail outlets, gyms and entertainment venues after the council voted 13-0 to approve the plan on Wednesday.
Councilman Mitch O'Farrell, who proposed the ordinance last week alongside Council President Nury Martinez, insisted that the new requirements were necessary to protect the health of the public as cases surge. But, it would not be a "vaccine mandate."
"We're not going to tell someone, anyone, that they have to get vaccinated," O'Farrell said, according to The Los Angeles Times. "We're also not going to deny anyone the ability to access essentials—food, medicine, etc.—regardless of vaccination. That wouldn't be legal, that wouldn't be moral."
"But what is immoral is choosing not to get vaccinated, choosing to listen to some delusional rant on Twitter," he added. "This is real life. Vaccines work."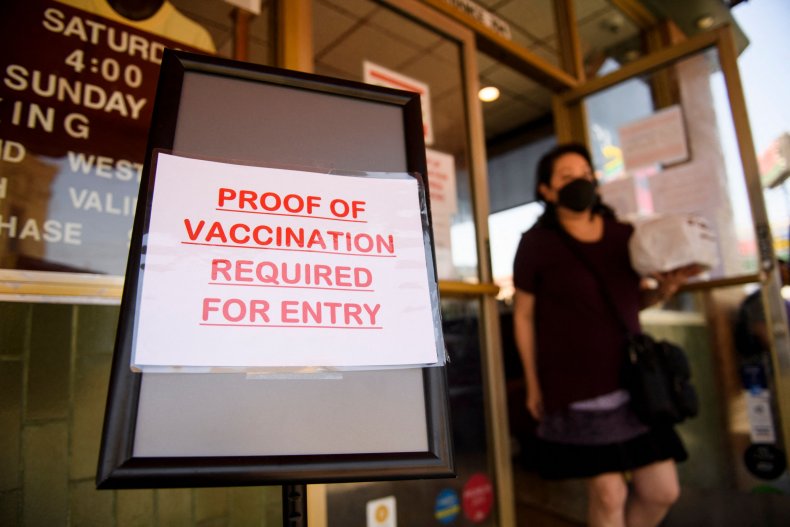 Specifics of the new restrictions have not been finalized, with the council directing city employees to meet with business leaders while formulating a plan. It is not clear how essential businesses like grocery stores and pharmacies will be impacted.
It is also unclear how the restrictions will be enforced and whether the city intends to put in place measures that could weed out counterfeit vaccination records. The ordinance will go into effect 30 days after it has been drafted. Martinez said she hoped the ordinance would help the city eventually return to "normal."
"If we ever want to get back to normal, to what Los Angeles was like pre-COVID, we need to stop the spread," said Martinez. "If individuals want to go to their gym, go to their local bar without a mask, you need to get vaccinated. And if you want to watch a basketball game, a baseball game, go to a concert in a big venue or even go into a movie theater, you need to get a shot."
Officials have already approved plans to require proof of COVID-19 vaccination for Los Angeles city and county employees. Similar rules for state employees and health care workers throughout California have also been put in place, while California Governor Gavin Newsom announced an order mandating vaccines or regular testing for teachers and school employees on Wednesday.
New York City Mayor Bill de Blasio announced a similar plan last week. New Yorkers and visitors hoping to dine out, go to a gym or an entertainment venue in the city can provide proof of COVID-19 vaccination using the "Key to NYC Pass" starting on August 16, with full enforcement of the new requirement set to go into effect on September 13.
Newsweek reached out to the office of Los Angeles Mayor Eric Garcetti for comment but did not hear back in time for publication.