The Los Angeles County sheriff said he could lose thousands of workers if the county's COVID-19 vaccine requirement becomes enforced.
Sheriff Alex Villanueva is hoping that the proposed vaccine mandate for Los Angeles businesses will not go into effect because of the toll it could take on his workers. As a result, a "death blow to public safety in Los Angeles County" could occur, Villanueva said during a call held to discuss a proposed mandate, according to the city's KABC-TV. These remarks come as 5,766 of Villanueva's workers are unvaccinated and community members are rallying for his impeachment.
"​​Your motion is going to seek to basically cause us to actually lose 4,000 employees, for a grand total of 0.4% improvement in positivity rate," Villanueva said to the Board of Directors on Tuesday, KABC added. He also used the region's ongoing rise in crime as further proof that the vaccine mandate could not be enforced, calling the mandate "ill-advised, illogical and probably in the long run illegal."
"[This] does not exactly benefit public safety," Villanueva was quoted. "We're coming off two years of a historically high 94% increase in homicide rate, 64% increase in grand theft auto. And this is just not sustainable. The current situation is not sustainable. The hiring freeze is not sustainable."
The Board of Directors hearing was held to discuss a proposal that would allow the county personnel director to discipline unvaccinated employees. Despite a high vaccination rate, around 18 percent of Los Angeles County employees are still unvaccinated, with less than 60 percent of sheriff's department employees complying with the mandate.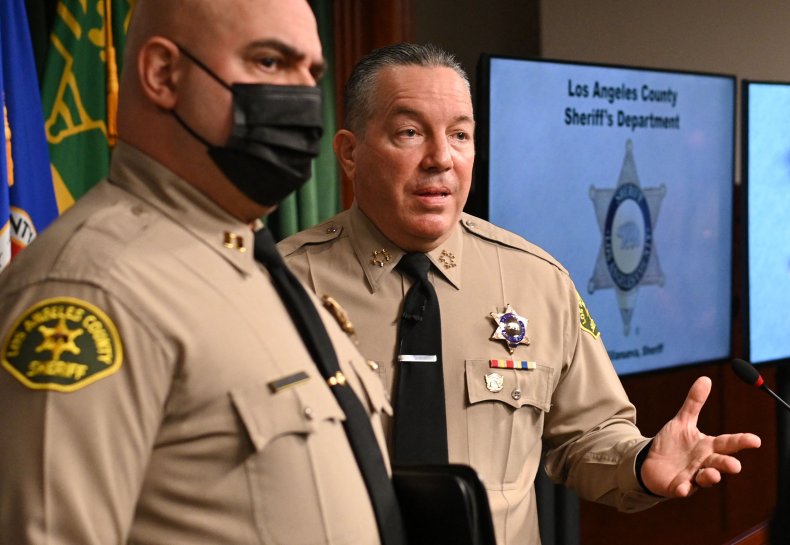 Villanueva's testimony comes as calls for his resignation or impeachment are growing. According to an earlier KABC report, a group of protesters gathered outside the Los Angeles Hall of Justice on Monday rallying for a ballot measure that would allow citizens to vote him out of office. Participants say that this measure is necessary because Villanueva, a publicly elected official, should be held accountable for his department's alleged resistance to oversight measures.
"State law not only allows, but expects, county charters like the one in L.A. County to have removal procedures, so all we're asking is…nothing radical. Just common sense checks and balances," said the ACLU of Southern California's Andres Kwon, according to KABC. "A structure that, right now, we don't have."
Villanueva struck back at these protesters, accusing them of "masquerading as 'reform' groups" on Twitter.
"In reality, many are simply part of coordinated attacks on a Latino sheriff who leads a predominantly Latino department," he tweeted.
Update 02/08/2022 at 6:05 p.m. ET: This story was updated to add background information on the mandate and Villanueva's current controversy.