L.A. County Will Extend Stay-at-Home Order for the Next Three Months, Says Public Health Director
Residents of Los Angeles County in California will most likely be living under stay-at-home orders until sometime in July, according to county Public Health Director Barbara Ferrer. Although no official order has been enacted, Ferrer said during a Tuesday meeting that the extension would happen "with all certainty."
California's stay-at-home orders were originally expected to end on Friday. However, if Ferrer's comments pan out to be accurate, the state will push the orders out for approximately three months.
"I do think recovery will be months long, based on the tools we have at hand today," Ferrer said at a Board of Supervisors meeting Tuesday.
"Our hope is that by using the data, we'd be able to slowly lift restrictions over the next three months," Ferrer said.
Ferrer further explained that unless there was a "dramatic change to the virus and tools at hand," there would be "no way that we could in fact see us not needing to continue with a set of restrictions."
Newsweek reached out to the Los Angeles County Department of Public Health. This story will be updated with any response.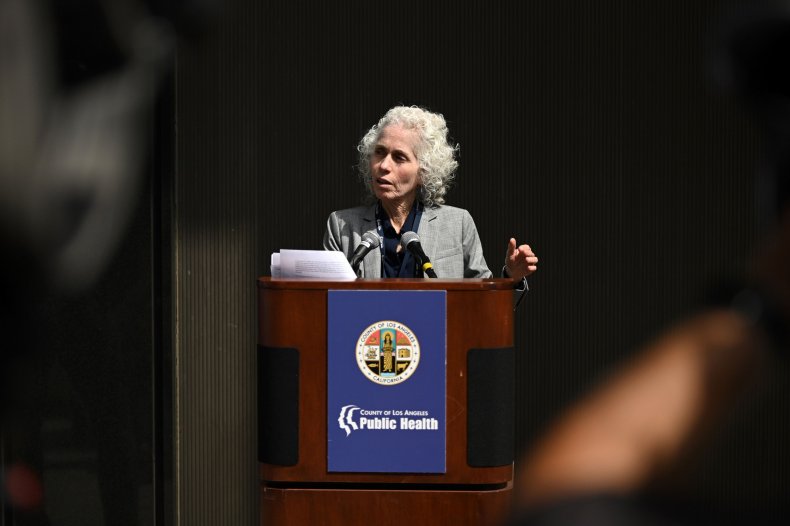 One key factor in relaxing stay-at-home orders is the availability of coronavirus testing. Governor Gavin Newsom on Tuesday said pharmacies in California will be able to test for the virus, even if some do not have the capacity to do so currently. Newsom said the state was averaging 35,000 coronavirus tests per day, a sharp increase from a month ago when California was only performing an averge of 2,000 tests per day.
Newsom also announced relaxed restrictions on more types of businesses, including dine-in restaurants, outdoor museums and shopping centers. However, those businesses must meet the criteria outlined in Newson's reopening plan before opening their doors to the public.
Points included in the guidance for reopening restaurants include a strict regimen of cleaning and disinfecting areas, placing a priority on outdoor seating with proper social distancing protocols observed and initiating symptom screenings and temperature checks for employees.
However, places that primarily sell alcohol such as bars and pubs should remain closed unless they also offer indoor dining. "Alcohol can only be sold in the same transaction as a meal," the state guidelines read.
"There should be no pressure on local officials down in L.A. or anywhere to feel that they have to move into this space sooner, because their conditions are very different from some of these rural counties," Newsom said Tuesday.
County governments can align with the statewide plan for reopening restaurants at their own pace. "Not everyone is compelled into this phase," Newsom said.
In Los Angeles County alone, more than 32,258 positive cases of coronavirus have been reported as of May 12, with a countywide death toll of 1,569.