L.A. Dodgers Pull a Feat Never Seen in Club History With 6-5 Win Over Braves
The Los Angeles Dodgers overcame a 5-2 deficit Tuesday to snatch a victory away from the Atlanta Braves in Game 3 of the National League Championship Series (NLCS), winning 6-5 and avoiding an elimination game thanks to a monster eighth inning.
This was a game that the Dodgers were desperate to win, as they had no desire to play in another elimination matchup, which Dodgers beat reporter Bill Plunket noted would've been their fourth in only nine postseason games.
This was not just any old win for Los Angeles, though. According to MLB reporter Sarah Langs, this was the 82nd time in the franchise's playoff or postseason history that the Dodgers took a 3-run deficit into the eighth inning, but only the first time under that scenario that they've won.
The Dodgers got off to a quick start Tuesday afternoon, taking a 2-0 lead in the bottom of the first thanks to a home run from shortstop Corey Seager. Things looked to be going L.A.'s way, and the team held the Braves scoreless until the fourth.
Once Atlanta came up in the top of the inning, though, their bats came to life as the team scored four straight runs, shelling Dodgers pitcher Walker Buehler and going up 4-2.
A single in the fifth inning would drive home another run and make it a 5-2 Braves lead.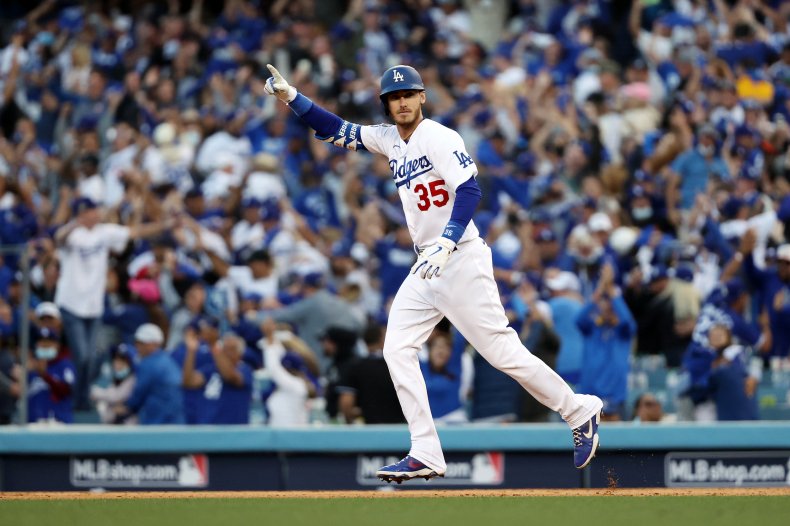 Things looked bleak for the Dodgers, and they were held quiet until the eighth inning, when center fielder Cody Bellinger, who had had an unusually lackluster season, decided to change things up.
With two runners on base, Bellinger crushed a home run into right field to score all three men and tie the game at 5. The Dodgers weren't done, though, as right fielder Mookie Betts would bring in another run on a line drive to give Los Angeles the 6-5 lead.
From there, the game would make its way to the top of the ninth, where the fate of the Dodgers rested on closing pitcher Kenley Jansen. Jansen quickly shut the door on any potential Atlanta offense, striking out three Braves batters in a row to end the game.
Despite the Dodgers' victory on Tuesday, the Braves still hold a 2-1 series lead in the NLCS, with the mathematical odds of an Atlanta victory still in their favor.
Critical Games 4 and 5 will also be played in Los Angeles. The series will then shift, if necessary, to potential Games 6 and 7, both of which would be played in Atlanta.