L.A. Lakers to Skip White House Championship Celebration Visit With Joe Biden
The Los Angeles Lakers could have been the first NBA team to celebrate a championship at the White House since the Cleveland Cavaliers visited Barack Obama in 2016. A quadrennial passed during the Trump administration with no NBA celebrations, and the Lakers could have broken that streak with new president Joe Biden.
But it won't happen. A Lakers spokesperson said the team's schedule to Washington, D.C., later this month to play the Wizards had both scheduling conflicts and ongoing COVID-19 protocols, ESPN reported on Saturday. Therefore, a White House visit will have to wait. Although, the team said it will have some sort of celebration with Biden at a date to be later determined.
LeBron James and his Cavaliers celebrated with Obama in November of 2016, just days after Donald Trump defeated Hillary Clinton in that year's presidential race. Now that James won a championship with the Lakers, he won't be back this year.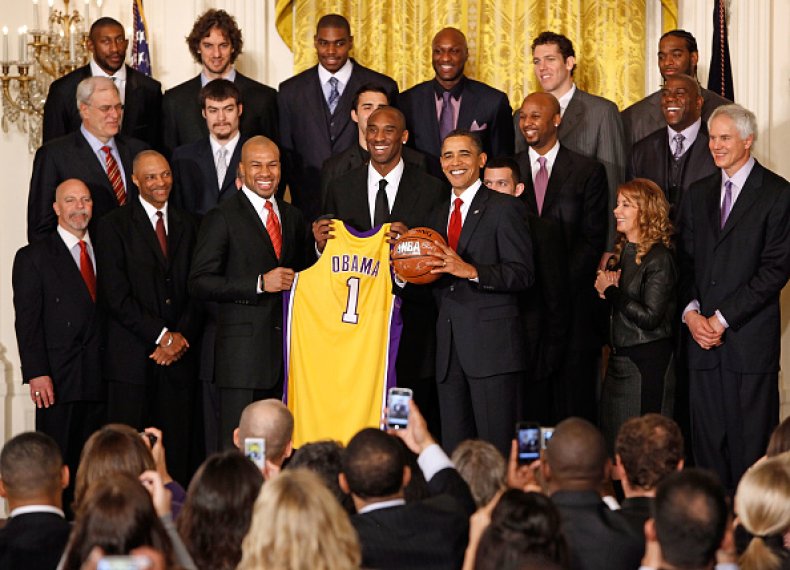 Over the next three years (2017-19), the Golden State Warriors (twice) and Toronto Raptors declined visits to the White House after their NBA conquests.
Because of the ongoing COVID-19 pandemic, the Lakers didn't get the typical parades and fanfare that go along with major championships.
The Lakers have experienced a rather unconventional celebratory method this last season. First of all, the NBA season and its 2020 postseason—after it all resumed post-virus—was played entirely inside the NBA bubble. Then there was no parade back in Los Angeles, and there has been no ring ceremony for the team and fans.
On top of that, the team figured it could at least celebrate a White House visit in the post-Trump administration. That sentiment began shortly after Biden officially defeated Trump and Warriors star Draymond Green tweeted James by saying, ""y'all can go to the White House and celebrate y'all title G!"
James replied, "YO we back up in there my G!!! I'm taking my tequila and vino too!"
The Lakers won their 17th NBA title in franchise history last fall with a series win over the Miami Heat in the Orlando bubble. The Lakers just this week played their first home game before fans—a mere 1,915 spectators against the Boston Celtics at the Staples Center, which is about 10 percent capacity.
Jeanie Buss, who's the Lakers governor, said the team will formally hang their 2020 championship banner on May 12 before the team's final regular-season home game so that their fans can cheer it on. The Lakers play the Houston Rockets that night.
Though no NBA teams visited the Trump White House, it doesn't mean pro and college sports teams skipped the visit. Here are some of the champions in the last four years to visit the White House:
2016 Chicago Cubs
2016 New England Patriots
2016 Clemson Tigers
2016-17 Pittsburgh Penguins
2017 Houston Astros
2017 Alabama Crimson Tide
2017 NASCAR champion Martin Tuex Jr.
2018 NASCAR champion Joey Logano
2018 Boston Red Sox
2018 Clemson Tigers
2018-19 Washington Capitals
2018-19 Baylor Women's Basketball Team
2019 LSU Tigers